Want your kids to spend their time on productive science experiments that can sharpen their STEM skills? This review is for you.
Science projects are not only great for developing a child's planning, goal-setting, and problem-solving skills, but they also inspire creativity.
But, where do you find these experiments?
Science experiment books provide kids with fun and productive tasks. But, there are a lot of books available online. How do you choose the right one?
Best Science Experiment Books for Kids
I've listed and reviewed my favorite science experiment books for kids below.
By the end of the review, you'll have quite a few great options, allowing you to pick up the right for your kid.
Let's get started.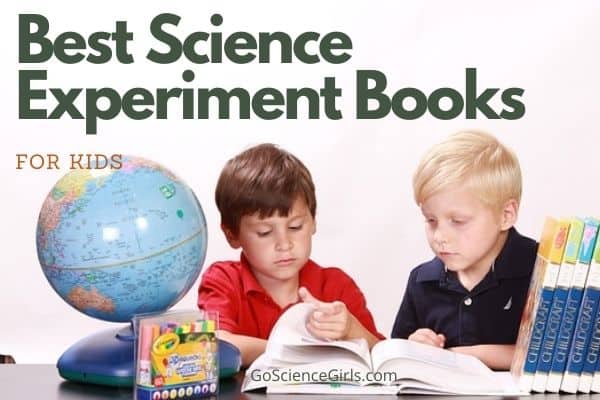 The Everything Science Experiments Book is one of the best ones on this list. While it's not a colored one, the text on it is green.
There are a lot of places and diagrams where the kids can write. Moreover, the kids get a variety of questions that will get them to think.
Moreover, the applications in this book don't require any uncommon object. You'll find the materials it requires for science experiments at home.
These include paper clips, shoe boxes, rubber bands, ice, food coloring, and foil. You may have a run to the drugstore once for items like iodine though.
Plus, it's a versatile science experiments book as your kids can study Biology, Chemistry, Physics, Human body, and Earth with it.
The 101 Coolest Simple Science Experiments is modern and visually appealing. Your kid will get a variety of bright and colorful photographs in this one.
Because of the photographs, the experiments are quite easy to pick up. The colorful pictures make it an engaging science book for little kids.
Moreover, you can easily find the stuff required to perform the experiments. Your kid may have to use home items like glue, paper, vinegar, soap, and craft sticks.
And, in case something's not available at home, you can easily get it from a grocery store. For instance, a coffee can, coffee filter, Epsom salts, and mentos.
Using this book, your kid can learn about the human body, the world, kitchen chemistry, and physics engagingly.
If you are looking for a slightly big science experiments book for kids, this one is of A4 size.
The experiments are a little more advanced but have full-colored images for the steps involved, making them easy to understand.
And, while a lot of the items required for these experiments will probably be available at your home, you may also have to purchase some.
Items like small electric motor, magnets, wire, compass, and batteries are easily available in a general store though.
As the experiments are a little advanced, I'll recommend this science experiments book for kids above 10 years of age.
The topics that this book contains include:
Hot and cold
Light
Color
Growth
Sound
Senses
Electricity
Magnets
Motions
Machines
This science experiment book for kids is probably the thickest one on today's list. It's a colorful science experiments book with images for almost all the experiments.
Moreover, most of the items that it requires are easily available at home. In case you can't find something, you won't have any problem finding it in the market.
Some odd exceptions include a red LED and an insulated copper wire.
You may find this science experiments book suitable for kids as well as adults. There is a range of exercises with different complexity levels.
For instance, the following exercises will appeal to small kids:
Fruit boats
Pom pom drop
Parachute fliers
Some exercises can be a little too advanced for toddlers. These include:
Lemon power
Conductivity experiments
The book contains topics like engineering, technology, science, math, and art.
So, if you want a full encyclopedia of science exercises for kids of a wide age range, this one should be it.
Do you have a mason jar in your home? If yes, that's all you'll need with this science experiments book for kids.
The Mason Jar Scientist for kids' book provides a lot of fun and creative science experiments to sharpen the mental skills of your kids.
Moreover, the book has easy-to-follow instructions and vibrant photos to guide the kids through the experiments.
Not only does the visual nature of this experiment book makes it engaging, but it also inspires creativity.
And, unlike some other complex books, this one doesn't require a lot of additional items. You'll just need a few ingredients and a mason jar to get started with it.
It's ideal for kids aged between 7 – 11.
Your kids can learn the following concepts with these experiments:
Sound vibrations
Biomes
Clouds
Sky color
The solar system
And more
If you want your kids to engage in cool STEAM projects outdoors, the 25 Super Cool Outdoor Projects for kids will interest you.
There are a total of 25 fun backyard experiments in this book that'll teach your kids about the environment, animals, plants, physics, and water.
Kids can learn about compost, thawing, freezing, water rockets, etc.
In addition to that, the science experiments book provides detailed instructions with visually appealing photography.
The outdoor nature of the experiments and engaging graphics will prompt the kids to learn about science topics while having fun.
So, if your child loves being outside, this book provides a great opportunity to get productive with their time. It's ideal for children between 8 – 12 years of age.
With this science experiments book, your kid can convert your kitchen into a science lab. How? All they would need to perform these experiments will be there in the kitchen.
The experiments they'd be doing relate to physics, biology, and chemistry. They will learn the fundamental scientific concepts in a fun way.
Moreover, the experiments in this book can be used as educational group projects or individual productive tasks.
Most of these experiments are safe for toddlers and interesting enough to engage older kids. So, if you can manage to give some kitchen space to your kid, they can learn a lot of things with this book.
Another good thing is, you won't have to buy additional items with this book. Just the kitchen tools and ingredients will do.
Do you have a curious kid and want to address his/her science curiosities in a fun and engaging way? This science experiments book might interest you.
The fact that your kid can design his/her own science experiments sharpens their creative thinking skills. And, this way, they'd also be able to learn better.
Moreover, the 100+ hands-on science experiments in this book only require easily available household items.
The explanations are ideal for small kids in the 4 – 8 age range. They can learn the STEM (Science, technology, engineering, and mathematics) concepts with real-life applications as well.
In conclusion, it's an effective way to pique kids' interest in scientific study as they can get involved at home whenever they like.
Do your kids have a short attention span? Would they want to have the instant gratification of achieving something?
Well, this science experiments book provides exactly that. The experiments are easy and short, so your kid will be able to finish them in less than 10 minutes.
What makes these experiments easy and fun? The illustrations and step-by-step instructions aid the little scientists to execute them.
And, most of the stuff these experiments require is already present in your home.
What will your kid learn? The book covers a variety of scientific concepts. These include air, energy, magnetism, the human body, animals, gravity, light, and more.
It would be ideal for kids in the age range of 8 – 12.
The Smithsonian 10-minute experiments for kids book is designed with exciting, colorful projects for curious children.
There are dozens of fun projects in this book that can help kids understand the basics of science, technology, engineering, and mathematics.
What's more, the kids will be able to understand how to conduct experiments, measure results, and think critically, in a fun and engaging way.
All the experiments require only easy-to-find items that most of the users will find at home. And, if your kid has a shorter attention span, most of the experiments in this book are doable within 10 minutes.
Moreover, courtesy of the step-by-step instructions and colored visuals, kids can easily understand and perform these experiments.
With this ingenious science experiments book for kids, your child can convert your kitchen into a science lab.
Not only can the kids carry out science experiments in the kitchen, but they would also be able to eat them.
The ingredients involved in most of the experiments are edible.
Moreover, the scientific tasks are easy to follow thanks to age-appropriate explanations and step-by-step instructions.
Not only that, but adults can anticipate the mess and difficulty of individual experiments. This is because every experiment is marked with a difficulty rating and the probability of mess.
The book is based on STEAM (science, technology, engineering, the arts, and mathematics), providing an opportunity to kids to learn a variety of topics.
For instance, they can create a calorimeter and learn how it measures energy. They can combine cheese and marshmallows to create a snack.
The Awesome Physics Experiments for kids' book offers interactive and fun activities to help kids learn basic physics concepts.
Kids can get hands-on experience and learn about heat, force, flight, buoyancy, electricity, and sound. The book is evidence that physics can be really fun to learn.
Moreover, these experiments come with step-by-step instructions, making them easy-to-follow for the kids. The colorful visuals, diagrams, and design keep the kids engaged with the experiments.
And, you won't have to buy anything expensive to carry out the experiments. Everything your kids need to conduct physics experiments can easily be found at home.
However, the book is not ideal for very small kids. The recommended age range is 10 – 13.
The Dad's Book of Awesome Science Experiments features easy-to-perform experiments on the basics of physics, chemistry, biology, our planet, and the human body.
The science projects have detailed instructions with colored photographs to make learning fun and easier for even the youngest aspiring scientists.
The kids will learn chemistry with soap clouds, physics with straw balloon rocket blasters, planet earth with acid rain, and the human body with marshmallow pulse keepers.
The best thing? Almost every experiment requires only the stuff that's already available at your home. You may have to visit the grocery store for inexpensive items.
So, if you want your kid to learn the basics while having fun, the Dad's Book of Awesome Science Experiments is for you.
Final Thoughts
The best science experiment books don't only provide a fun way to learn STEAM subjects, but they are also a great way to hone kids' creativity.
Kids can learn about the basic concepts of science, technology, engineering, the arts, and mathematics without having to leave their homes.
Plus, these books are great for a child's problem-solving, planning, and goal-setting skills development.
All the science experiment books reviewed in this article offer creative, fun, engaging, and productive experiments. You'll just have to see which one/ones would be right for your kid.