Here is an amazing STEM project that your child can do at home using simple and very less household supplies.
Presenting 'Toy Car Launcher using Popsicle Sticks'.
This activity is easy, quick, and a great way to introduce your children to physics concepts.
How to make Popsicle Stick Toy Car Launcher
You might have seen our Popsicle stick Christmas craft activities! But this activity is different, because, not only teaches art but also science.
Items required
1) Popsicle or Craft sticks (colored ones preferred otherwise take plain ones and color them using water paints)
2) Rubber Bands
3) Glue
5) Scissors
6) Current Tape
7) Pencil
*Product Links are affiliate links – Your support is highly appreciated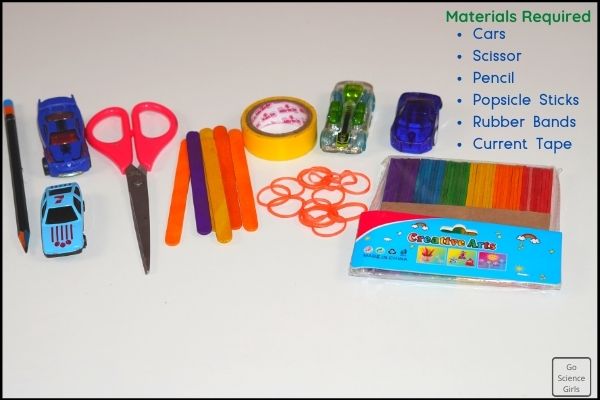 Step By Step Instructions for Car Launcher
Complete car launcher making walkthrough video
Step-1: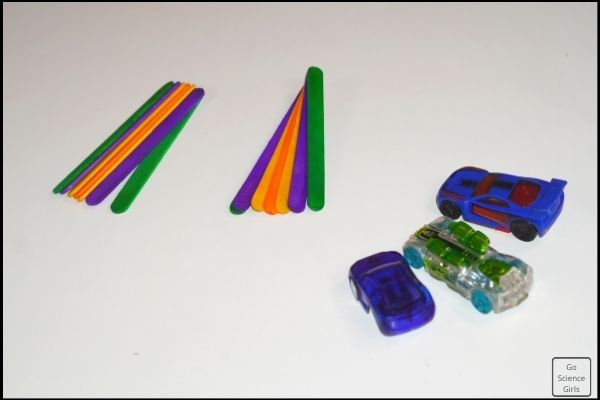 Pick up a bunch of Popsicle sticks of different colors. Here we used green, yellow, orange, and blue colored craft sticks. Among those, pick orange colored ones and cut a half inch at the end, you can choose either of any ends.
Step-2:
Here, we are going to stick our prepared craft sticks! Let us see…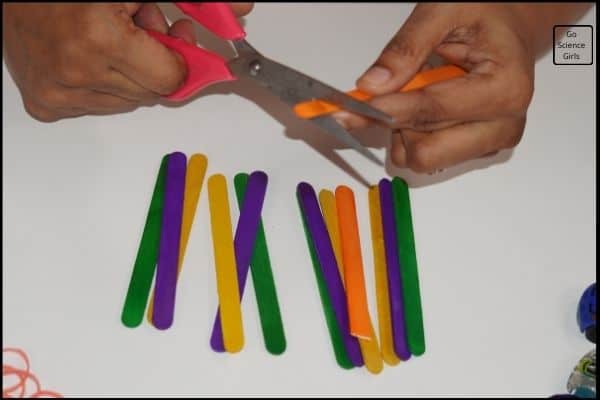 Make a set of craft sticks like three sticks one upon the other and an orange colored stick and again a set of three sticks. Arrange the craft sticks in this way and tie them up using an elastic band.
Step-3: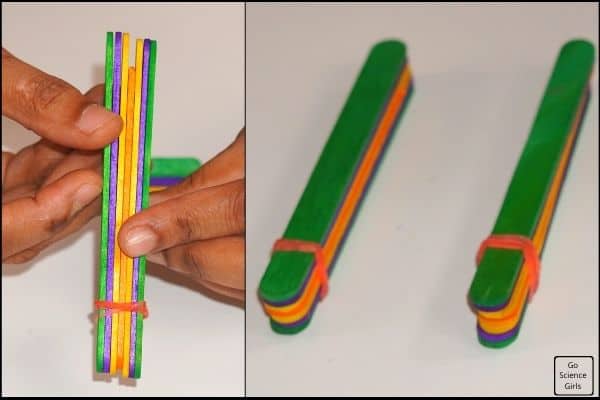 As mentioned in the second step, follow the same instructions and make another set of Popsicle sticks as a part of base. Make sure you are securing all the Popsicle sticks properly using elastic bands. We are doing this for the purpose of keeping the base part stronger so that our car launcher works perfectly while launching car.
Ensure that the cut popsicle stick is placed in the middle of both the sets.
Step-4:
Now pick a pair of yellow craft sticks and wrap an elastic band at their ends on both sides i.e. about an inch away from the ends. You can see the pictures to get a clear idea. Consider these sticks as cross bars.
Step-5: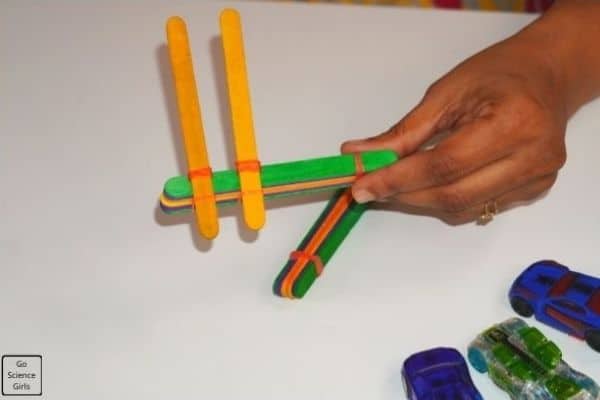 As a fifth step,place the two base parts made of craft sticks and tightly secured with elastic bands in parallel positions i.e. facing towards you. Keep the distance between them about 2-21/2 inches.
This distance can be decided by you depending on the craft stick size you are using. Now, bring the crossbars over the base parts at one end as shown in the figures. Make use of elastic bands to secure them tightly to the base parts.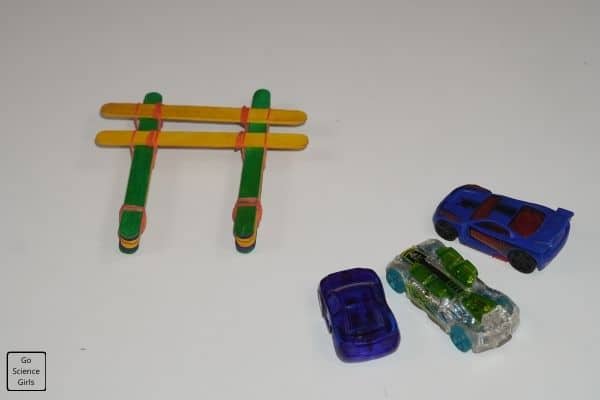 Already we have wrapped an elastic band to the cross bars right, so make sure those bands are inside or in between two base parts.
Step-6:
Let us prepare the handle part of our toy cat launcher!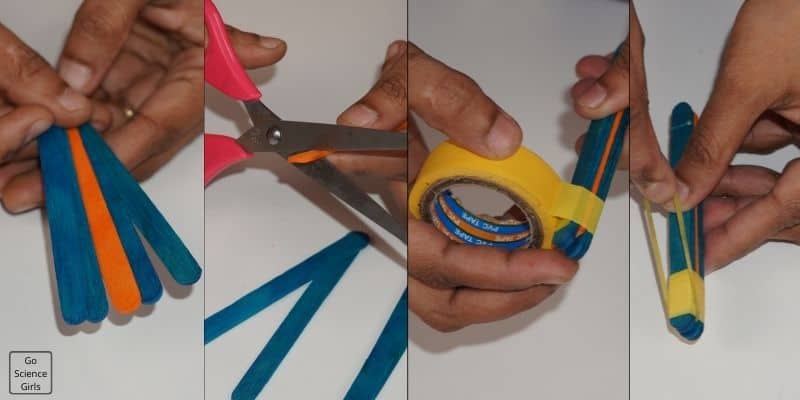 For making the handle part, pick four craft sticks and a partially cut stick. Cut the orange ones about a half inch at any end of it but only on one side.
Now arrange these craft sticks in an order exactly like, two blue colored ones and then the chopped orange stick and again two blue sticks.
Arrange the sticks in this manner one upon the other and secure them using current tape.
Step-7: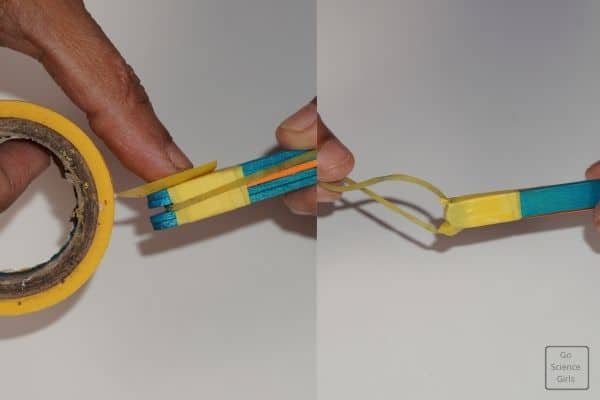 If you arrange the sticks exactly like above mentioned manner, one side you can see all the sticks one upon the other.
And on the other side, you can see there is a small groove like structure in between the blue sticks.
Step-8: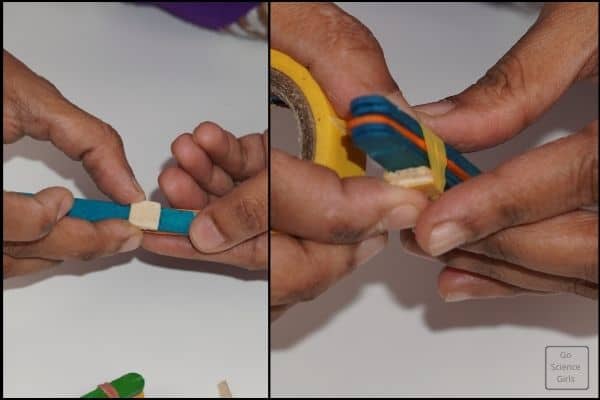 Now coming to the other end, Pick the chopped pieces of sticks which are ¼ inch in two number and stick them about one inch away from the end. You can use current tape in order to stick them standardly.
Step-9: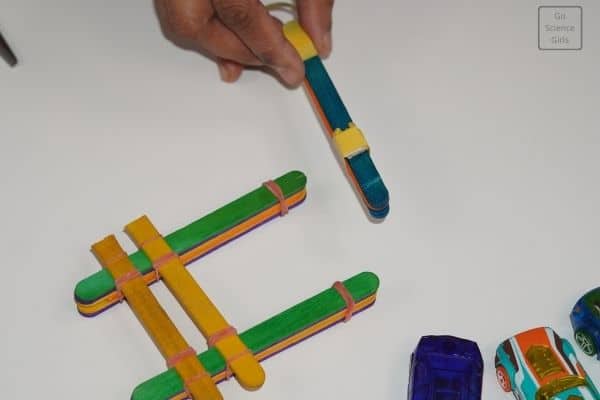 In the final step, attach this handle part to the base part of our toy launcher. Keep the base part facing away from you and insert the handle part in between the cross bars and parallel to the base part.
Make sure the notch part of the handle is fixed in between the two cross bars as shown in the picture. And then fix the handle part to the base using the free elastic band attached at the other end of the handle.
Bring the elastic band over the two cross bars such that it fixes to the base perfectly.
Step 10: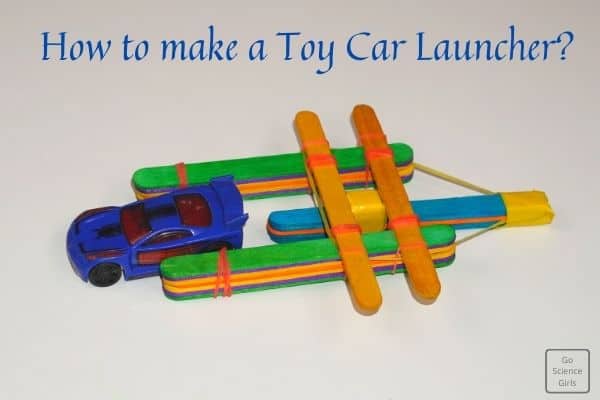 At this stage, your Popsicle or craft stick toy car launcher is ready!
Now place your mini toy car in front of handle part and half way in between base part. Then press the notch present in between the cross bars.
Such that the handle is released pushing it towards the car which eventually pushes the car forward to some distance.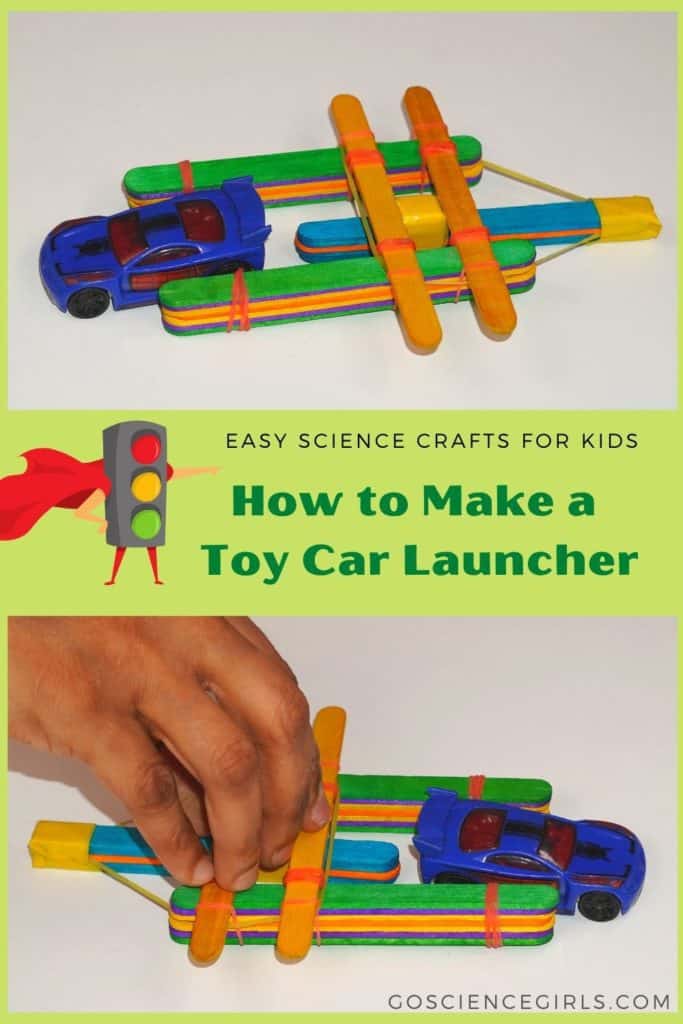 Press the notch and observe how amazingly your toy car is moving forward using simple science concepts. This is such an easy and wonderful activity for kids!
The best part of this at-home activity is that the complete process is inexpensive as we are using budget-friendly supplies. Let us also learn science behind this technology.
Here are some more popsicle stick activities you can try at home:
Build Catapults from Popsicle Sticks
Make Popsicle Stick Christmas Stars
Science behind Toy Car Launcher
The simple science behind this toy car launcher include: Newton's Laws of Motion, potential and kinetic energies, forces, and pressure.
The launcher is set up perfectly such that the trigger part is tightly attached using elastic band over two cross bars. When there is no action upon it, the lever or trigger part remains in its position without any motion. This satisfies the first law of Newton's law of motion.
Suggested: Air Powered Car
And the lever part stores energy which is nothing but potential energy until then it remains motionless using elastic band.
When the notch pressed, the lever releases and the potential energy converts into kinetic energy. Kinetic energy is the energy that is in motion.
So, when you release lever, potential energy converts into kinetic energy which eventually provides projectile motion.
In this activity, our projectile is a toy car. Due to the motion created by kinetic energy. Our toy car moves further to some distance amazingly.
Hope you enjoyed and learned how to build an easy and simple toy car launcher using Popsicle or craft sticks. Happy Crafting!!
Disclaimer : This post contains affiliate links from Amazon. An affiliate link means that when you purchase using the link provided in this page, I would get a small referral fees WITHOUT any extra cost to you. I highly appreciate your understanding and support.