Are you a recent STEM graduate? If you are, there's a good chance that now you're probably wondering: "How can I find a job to begin my career?".
While this is an extremely important part of your life and one that should be taken seriously, let's not make it overwhelming or stressful.
Here is a list of steps that can help you get started in your career after completing a STEM program (science, technology, engineering or math).
Steps to find a job after studying in the STEM program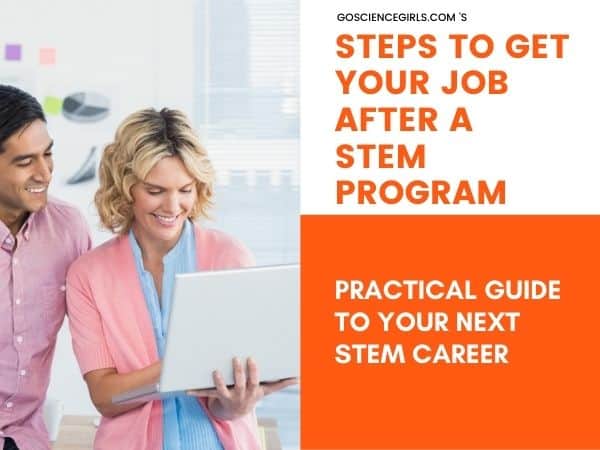 Step 1: Know What You Want
Your college major and your career path don't necessarily have to be related.
You can find a way to use your STEM training in almost any career path if you know where you're going.
I'm not just talking about the industry you want to work in, or whether you're interested in being an engineer or a manager. I mean knowing specifically which companies you'd like to work for, and why.
If you're not sure what your career goals are, start by reading as much as possible about the different options available to you.
Talk to people in different fields, and read some books about different jobs to see what might interest you.
Research potential employers to find the one that is best for you.
Try to answer some of these questions:
What's the job that you want?
What's the salary range?
Where do you want to live?
What is your career path?
You really have to know what your ideal job looks like and then go out there and pursue it.
Step 2 : Network! Network! Network!
According to a recent survey, It was found that 30 percent of employers were more likely to hire someone with a referral from an employee.
The truth is you are not the only one looking for a job. The competition is tough, but the good news is that networking can help you stand out and can even help you land a job.
In fact, I found about 80% of jobs through my network connections which never get advertised anywhere.
So how do you begin? Start by making a list of the people you know and the companies they work for or are associated with. This includes family members, friends, coworkers (past and present), neighbours and classmates. If they are in a STEM field, even better!
I can't stress the importance of using LinkedIn! In a recent survey of more than 1,000 scientists and engineers across the U.S., we found that nearly 90% of those seeking jobs used LinkedIn to identify opportunities.
I suggest you start by following experts on LinkedIn and commenting on their posts. You can also join relevant groups on LinkedIn to get started. You'll gradually become more comfortable with conversing with people online and build up your network.
But be genuinely interested. The network is all about sharing your worth equally. So be open to giving all the help you can while seeking it.
People will usually be happy to help if you ask nicely and show genuine interest in the company.
Step 3: Make Your Perfect Resume
The resume is the first step in the interview process before you meet with HR, and it's how you get into the door for an actual interview.
Do Not! I repeat Do not use the same resume everywhere you apply.
Before you start writing your resume, do some research on the companies you want to apply for jobs at. Every company is different, so make sure you look carefully at the careers page on their website.
You'll find out what they look for in a candidate and what skills they require from new hires. This will give you an idea of what to focus on in your resume.
Ivory Research experts believe: "that a resume must be designed in accordance with the requirements of the company in order to be accepted and noticed."
Tailor your resume with the skills you have and by matching what the company is looking for. This will get through every HR review or even the automatic bots that filter out resumes these days.
You can also be creative and share something interactive like a video resume for instance. Alternatively, try any resume builder online for free.
Step 4: Find an internship
If you're a recent graduate looking for opportunities to gain experience and prove your worth, an internship is a perfect place to start.
One secret that many STEM graduates have discovered is to find an internship during their senior year in college. An internship not only offers practical experience, but it gives you the opportunity to meet people in your field and learn more about what they do.
This also gives you experience interviewing for jobs post-college — something that's expected of STEM grads.
Applying to an internship has little to do with your academic performance, but it does make you a lot more attractive to a potential employer.
An internship is a great way to network and learn about the professional world. If you're looking for a job in science, technology, engineering or math (STEM), you can use this to your advantage by getting one yourself.
Step 5: Practice interview skills
When you're looking for a job, you may want to consider taking an online class or enrolling in a program that will help you improve your interview skills.
There are a variety of programs out there that can teach you how to be more confident and positive during an interview, as well as how to ask intelligent and challenging questions.
There are three key skills every STEM graduate needs to master before an interview:
Communication
Knowledge
Problem-solving
Sometimes knowing how to answer certain questions can help you stand out from other candidates.
One way to prepare is to practice. Practice with a friend or family member before making your first trip to the interview, then stick to those rehearsed answers.
The worst thing that can happen is that you didn't rehearse enough, and no one will be able to tell whether it's because your answers were bad or because you're nervous.
But if you know what you're going to say ahead of time and practice often, anyone will be able to see how well you're prepared.
Even start doing mock interviews as much as possible. The more interviews you have, the better you'll get at the various aspects of interviewing.
Step 6: Be Smart With Your Job Search
The truth is that most STEM graduates don't find jobs by applying online and hoping for the best.
The fact is, no matter how good your resume is, it's going to get lost in a stack of other applications if you just send it out there without any context.
You can still apply for jobs online but only as part of a wider strategy that includes networking, informational interviews and other creative tactics.
Roughly 90% of people look for a job in all the wrong places, according to a new survey from recruiting software company Jobvite.
The survey found that only about 9% of people found their last job through a job board. That's compared to almost 50% who found their last job through a personal connection, like a friend or family member, and more than 20% who found their last job through an employee referral program.
This is why it pays to network. Not only does networking allow you to learn about jobs that might not be publicly advertised, but it also gives you access to information and insider tips that can help you get your foot in the door and land the gig.
The key takeaway? Be flexible. Be willing to adapt to the market and keep changing your strategy.
If you've made it this far, then you should feel quite confident about your chances of landing a job after earning your degree.
If they know that you've worked hard, they're more likely to at least consider you for the position.
Show them that you care about the interview process, your career prospects and that you truly have what it takes to succeed—and you'll be miles ahead of your competition. Knowledge is power.