For all those kids who love to explore sea animal and plants, aquarium is the best place. And this week let's explore Sea Life Sydney Aquarium.
Image:Source
In Australia, my favorite place to visit with kids would be the Sea Life Sydney Aquarium. What is special about this aquarium? Why do I recommend this to you?
If you have already seen Manly Sea Life Sanctuary you are gonna love this. Let me share my detailed review of this place. My details will be focused more on a parent point of view. You can understand the importance of this place and I have tried to make it a virtual tour for you to know where to begin and see this place. Also, I have listed the special attractions offered in the aquarium for kids.
First, we shall start the tour from how to head to this place. It is situated in Sydney and yes centrally located nearby Darling Harbour. You can drive to this place and park the car in the ample space provided. Alternatively, go in the ferry service that is provided every 30 mins from Circular Quay Wharf. You can take a train and also walk down from Wynyard or Town Hall station and it will not take more than 10 mins.

Image:Source
The aquarium is open from 10 in the Morning and closes at 6 PM every day. During vacation, they open at 9.30 AM. You need to be there before 5 PM to get entry. Minimum of 90 mins is required to visit all places in the aquarium. However, you can choose to spend the whole day as well. See more details here.  Kids have many events and let me explain them in the coming sections.
You can buy a ticket online or in person. There are several options available like general admission, flexible admission, and annual pass, etc. Check here to book your tickets. Toddlers and babies aged 3 and below can enjoy the visit at free of cost. Make a note that kids below age 18 need to be accompanied by adults for visiting the place. Their entry is otherwise restricted for safety purposes.

Things that would interest kids in Sea Life Sydney Aquarium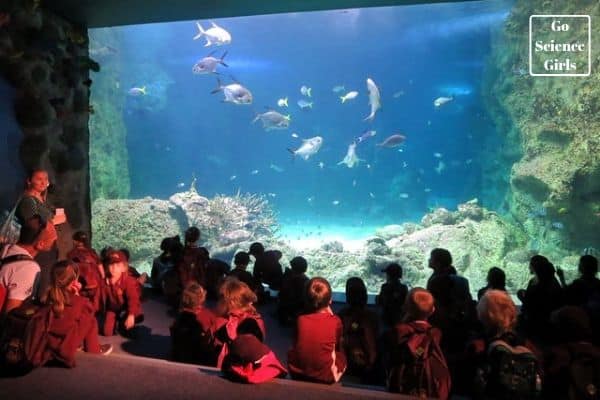 Image:Source
There is loads of entertainment waiting for kids and every underwater creature presented here will create a long-lasting memory for both adults and kids. Continue reading to know more.
There are more than 13000 animals available here and they belong to 700 different species. Yes, you can find seahorses, sharks, rays, and penguins too.
Great Barrier Reef

  Image:Source
This is the latest exhibit in the aquarium but has caught the attention of every kid and is also called the Day and Night on the reef. You can witness the life of sea animals both during day and night.
The lightning effect is so accurate that you will feel as though it is really night. The transition happens very carefully to not let the audience miss any feel. Day to night movement makes kids feel surprised and you can hear a wow from each visitor. Further kids will enjoy walking across the beach that is bioluminescent. They will love to watch the spawn, meet the turtles, and travel with the jellyfish swarms.
Discovery Rockpools

Commonly seen sea creatures in the rockpools are collected for your view here. Roll up kids sleeves and they can enjoy the touch and feel of port Jackson shark eggs, sea cucumber, and sea stars.
Also, you can watch the coral-branded shrimp on the kid's TV using a specially designed underwater camera. It was launched on Oct 6th, 2016 and since then has got a great reception from the visitors.

Dugong Island

Pig the Dugong was rescued as a baby who was malnourished and hence found a place in this aquarium. You can watch the story of this Dugong Pig 3 times in a day. There are Wuru and Pig which are the two surviving dugongs across the world. It is great to see them here in this aquarium.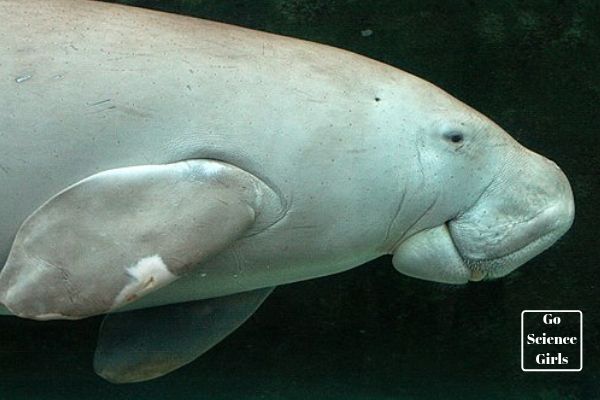 Image:Source
Jurassic Seas

Discovery of sealife that evolved in the due course of time can be enjoyed in Jurassic seas. Also, detailed understanding about fossils of jellyfish, lungfish and nautilus is made easy here. There are long buried large fossils of several marine reptiles. Can you imagine Jurassic period is 200 million years old and those fossils are found here for experiencing the life of Jurassic animals?
Penguin Expedition

  Image:Source
There is always a huge queue here to explore the penguins. But don't, worry as the line moves quickly and you can soon enjoy boarding the sub-Antarctic boat to get into the snow world and have fun with Gentoo and king penguins.
Shark Valley

These are the underwater tunnels and you can move close to the shark and find an abundance of grey nurse sharks. Even Queensland gropers are found here. It is 1.5 million liter oceanarium and renovated as shark valley. There is a tunnel for 100 meters and has a huge skeleton of the whale at its end. The glass walk will take you to shark and feel the fear of lemon sharks.
South Coast Shipwreck

In this place, you can find an exclusive aquarium for penguins, moon jellies, and Port Jackson sharks. It is a simulation of a shipwreck environment and there is enough space for kids to study about southern ocean sea animals.
Sydney Harbour

Image:Source
There are 600 species with Sydney Harbour as home and you can see them learn about the ecology of Australia. This Harbour is the main link in the ecosystem. Take a look at the cuttlefish, and silver sweep.

Special attractions inside the aquarium

The main two attractions for kids include school activities and animal feeds.

Image:Source
Colorful creature
Every year during the vacation between July and August there is a special school activity program organized. This year you can feel glad about the colorful creatures. It is on from 29th June to 4th August.
This is free for kids and they are allowed to make a storybook about the colorful creatures in the aquarium and are awarded a souvenir as a gift of memory.
Animal Feed And Talks

Image:Source
The kids can join the team to see how animals eat and communicate. The feeding time slots are fixed and you can accompany the team to see them eat at no additional cost except the admission fee.
The timing is 10.30 AM to 1.30 PM every day when penguins talk. You can see this in the South Coast Shipwreck.
The fossils interaction happens in Jurassic sea between 11 and 2 PM.
Dugong time is 11.30 AM to 2.30 PM in Dugong Island.
Sub-Antarctic habitat talk at 12 Noon till 3 PM in the penguin expedition
Plan the timing and kids will certainly have a great time listening to the sea animal's talk.
What else can be done by kids in there?

The fun does not end there and much more for kids. They can see the shark dive several times in a day and all that happens in the shark valley. Go with the penguins between 1.30 PM and 3.30 PM to enjoy penguin encounter.

Image:Source
Hmm, there is much more which I would want you to personally visit and experience. Do not forget to share your thoughts to help the other visitors.
Other attractions in a nearby neighborhood
I can understand, having reached this place you have a hunger to explore more. Find below the other places which you might be interested in visiting along with kids.
You can check out these places namely the Madame Tussauds, WILD LIFE Sydney Zoo and Sydney Tower Eye as they are housed in Darling Harbour.
You will feel amazed to see wax dolls of famous figures and you can talk, and walk with them. The featured figures include.
Catherine, Duchess of Cambridge
Meghan, Duchess of Sussex
Prince Harry
Prince William
Queen Elizabeth II
 Kids can learn about whom they are and have fun with the wax figures.
  Image:Source
There is nothing to tell about what will amaze kids in a zoo. They can spend hours there in the zoo looking at birds and animals of all kinds. The different zones here catch your attention and they are kangaroo walkout, butterfly tropics, devils den, gumtree valley, nightfall, wallaby cliffs, etc. You can also enjoy watching platypus pool, saltwater crocodile, koalas, and all huge Australian mammals. There is no dearth to the variety of animals in the Sydney wildlife zoo. Discover in detail about spiders too. So you must make it once to this place to become kids along with your kids.
Image:Source
It's time to take a look at the entire Sydney city and hence you must not miss out reaching Sydney tower eye. This is 250 meters above the streets and allows you to view in all 360 degrees. Seeing the beauty of Sydney is so easy from this tower. Climb up anytime between 9 AM and 9 PM to give a great treat to your eyes. The ticket counter closes at 8 PM and you are not allowed inside after that. Make sure you take care of kids when you are at that height. The ideal time to enjoy would be during the sunset to take a look at the scenic beauty of Sydney.
Want more?
Check out our previous review on Manly Sea Life Sanctuary . 
Your kids might have fun reading these  15 Sea-Life Mistakes in Finding Dory.
Interested in more? find more interesting places that you can take on excursion with your kids here.