We will cook a yummy recipe that turns our just kitchen into a great chemistry lab in this post. 
Preparation Time is just 5 minutes, and the cooking time is 10 minutes! Very simple and quick to finish! We are going to make 'Violet Crumble'! 
Just bring your children to the kitchen and offer them a good demonstration of chemical agents that make amazing frothy reactions to make violet crumble.
How to Prepare Violet Crumble or Honey Comb
Make learning science easy and fun for your child by exploring this yummy recipe. Let us start the preparation process in easy steps!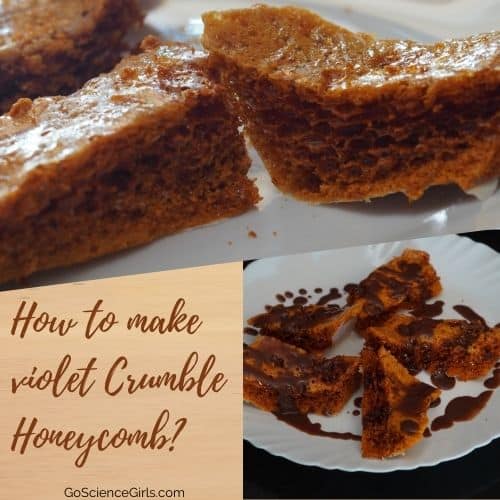 Ingredients Required
Caster Sugar (Superfine Sugar)–One and Half Cup
Honey – 1/3 Cup
1/3 Cup Water
Golden Syrup—1/3 cup (It is a common baking ingredient produced from sugar cane. Do not confuse it with maple or corn syrup)
Butter or else oil
Baking Paper and tray
Temperature recording device like a thermometer
The other common kitchen materials like spoons for stirring, cooking pan, measuring cup, saucepans, and greasing brush.
*Product Links are affiliate links – Your support is highly appreciated
Simple and Easy Step by Step Directions
Step-1:
Pick the baking tray (as big as possible) and brush the oil or butter to grease it.
After greasing, line it up with baking paper to easily remove the honeycomb crumbles off the tray.
Keep it aside!
Step-2: Ask your child to take a large cooking bowl and pour 1/3 cup of water into it. Put the flame on!
After the water gets boiled, add the other ingredients such as sugar, golden syrup, and honey.
Then, stir all the ingredients well or until they get mixed up evenly. Make sure you are cooking the ingredients at low flame.
Note: Letting children measure stuff offers them good mathematical calculation practice! And adult supervision is mandatory while dealing with flames and heat.
Step-3: Meanwhile, take a tiny amount of baking soda and mix it with a bit of tartar in a small bowl. Let it be for some time.
Step-4: Check the consistency of the sugar and golden syrup mixture on the flame.
Ask your child to use the stirring rod to mix up the ingredients every 2-3 minutes to achieve the required consistency.
Step-5: Turn the flame to high and let the mixture cook for another 10-15 minutes.
You can see a frothy bubble-like texture on the top layer of the mixture inside the bowl. That is when you need to add tartar and baking soda mixture using a tea filter.
Do not forget to continue stirring the mixture.
Step-6: The sixth step is crucial as it turns the semi-solid mixture into a stiff thick paste. But to attain the right consistency, you need to use the thermometer or fancy candy digital meters.
Because at 280-300 degrees, the mixture reaches its correct consistency to make violet honey crumbles.
So, using a thermometer helps you find the right point where you need to turn off the flame.
Step-7: You need to transfer the batter onto the greased and prepared baking tray in your desired shapes.
And let the batter cool to set and turn firm. It won't take much time to get cooled.
So, wait for 5-10 minutes and enjoy your yummy honeycomb violet crumbles by sprinkling some dark chocolate syrup over them.
If there are any leftovers, do not worry, you can store them for several days by storing them in an air-tight container in the fridge.
Let us explore the incredible edible science in this Recipe and Activity…
What is the Edible Science in The Homemade Violet Crumble?
Acid and alkaline substances make a tremendous chemical reaction and produce new products.
To support that statement, honey and golden syrup act as acids, while baking soda is alkaline by nature.
These substances combine and make a beautiful acid-base chemical reaction by releasing carbon dioxide gas.
As carbon dioxide is a gas, it forms bubbles or foam-like substances during the reaction. Therefore, you can witness the indication of a release of carbon dioxide gas by observing the release of frothy substances over the batter.
Ultimately, it helps in turning the hot batter into yummy honeycomb crumbles.
Safety measures
It is also essential to take care while dealing with stoves and flames. Hence, adult supervision is mandatory.
Get ready to prepare classic honeycomb violet crumbles on next Australia Day and create beautiful celebrations! Happy and safe cooking!
Disclaimer : This post contains affiliate links from Amazon. An affiliate link means that when you purchase using the link provided in this page, I would get a small referral fees WITHOUT any extra cost to you. I highly appreciate your understanding and support.