Got a 3 year old? This page is going to be a gold mine for you to explore various science experiments that you can try with your kids.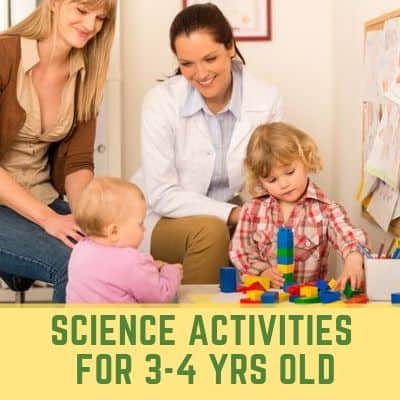 My naughty little princess Tisha has just finished her birthday and entered 3. I decided to do a lot of fun activities and make her understand science in an easy way. Yes, they are STEM activities. At the same time, we are trying to add more experiments age wise to all the little ones and add value.
(We have consciously decided to update this page on a regular basis to share our innovative ideas with you). Do not forget to check our site periodically even daily once will help you with creative science projects. Alternatively, subscribe and you can get our ideas dropped in your mailbox soon after it is updated here.
Fun Science and STEM Activities for 3-4 year olds
Want even more preschooler science activities?
In case you want to get several innovative science concepts for your little ones going to preschool, then you can take a look at these links given below.
Alum crystal glows – Take a highlighter, alum, spoon, hot water, black light, and scissors. All are available easily. Be careful when kids use alum. Extract the ink from the highlighter for doing this experiment. Blacklight is mandatory to make the alum glow. For more details Easy science for kids.
Dancing Raisins – See how this little one is making raisins dance. He is very clearly explaining the experiment. You can also let kids follow his instruction and make raisins dance. With ingredients available in kitchen countertop make this dance show happen. For more details Youtube dancing raisins.
Rhythms of Play got a great idea about Fish using Magnets. You must not miss out to add fun to your little ones.
This colorful celery found in Look We Are Learning is yet a great method to see plants transferring their nutrients and water to other plants.
Fruits can be stopped from browning – Lets now teach kids about how to keep fruits from browning. For this experiment, you need fruits and lemon juice. Any of these solutions will help teach kids about preventing fruits from browning. For more details Really are you serious.
Childhood101 has given a great explanation about making a miniature of microscope just with things available at home.
Fantastic Fun and learning have explained about dissolving lollipop. Check it out.
Trio experiment with water – These experiments will help students to understand about water and its properties. Whether all substance dissolve in liquid(water)? How water helps the plant to grow? Why water melts fast? So, all these are about water. Try to involve kids to make them understand better. For more details Kids Academy.
Does ice get affected by salt?  Try this activity to explore more. Learn the way water is absorbing watercolor. This is from Learning and Exploring Through Play.
Its time to make fun with sounds and here you go with KC Edventures art that has made a musical instrument which will be heard by one person and you can do it yourself
Now become an artist by painting just using Epsom salts. Gifted by One Creative Mommy. You can see the glowing faces of kids when they see the crystals upon drying.
Drinking Density Experiment – Make some juice to drink. Yes, it is a cocktail and you are just not going to make kids drink but teach density of different liquids from this experiment. Sugar makes the drink denser. Take different juice and add sugar to it and that will decide the density of the juice. See layers of juice in glass through this lesson. For more details Science Bob
Here's a safe way to explore bubble with apples! Presented by the Powol Packets.
Oxygen from plants – We tell kids not to sleep under a tree during the night because they release CO2. This lesson will talk about leaves creating oxygen. Apt for a 3rd grade to teach about plants and related to human respiration. For more details Projects jugaad
Use modeling clay and playdough to teach moon and its phases just like KC Edventures did.
 i-spy bottle can make galaxy so you can teach kids about naming planets. Learn this art by checking Best Toys 4 Toddlers postings.
Double gazed drinking – Using plastic bottles, glass, hot water, and thermometer it is now possible to teach kids about heating and temperature. This is a double gazed glass experiment to help understand about heating. For more details Owlcation
Get ready for designing sun prints on your own and this is a STEM + Art project called STEAM explained by Creative Family Fun.
Making constellations is as simple as that with toothpicks and marshmallows. Have some additional marshmallows due to the reason that it might vanish while constructing. Proudly posted in Munchkins and Moms.
Homemade air cushion vehicle – You can now teach kids about hovercraft. Yes, this air cushion vehicle can be made with pop up bottle cap, CD, and a balloon. See how this works. It is fun and a good way to teach kids. For more details Kid spot
Balloon Car – Only with a drinking straw, plastic bottle, and balloon your kids can make a car. Here teach about the car and its functioning. To make kids feel glad about making a car on their own follow this instruction. How do wheels rotate and what is required to move the car can be taught in this lesson. For more details Awesome ideas
Buggy and Buddy teaches making rainbow along with prisms lesson
Lets now quench the curiosity of kids about frosting and condensing by making them happen at your home. Learn this from Look We Are Learning.
Gravity with rubber bands. How is it possible? Yes, it is and you can check this out to see the stretching capacity of rubber bands. Check out Planet Smartypants for more details.
One more friction lesson – Friction is an important lesson for kids and you can easily demonstrate that with rice filled in a bottle. Let every kid apply force based on their capacity and learn friction. For more details Carrots are orange
Leak-proof bag – If you fill water in a plastic bag with a hole, then will water stay. Obviously, the answer is no. But do you know this experiment will prove it wrong? Let kids fill water in a plastic bag and then make a hole with a pencil to see no water leak. For more details What do we do all day
The Chaos and the Clutter are now showing a very quick and easy experiment with ice. How does ice melt faster than ever? You know what my Tisha found this internet and made me do this at once. But trust me that was all fun.
Now comes growing seeds and check NurtureStore to teach kids about growing pea and bean seeds. How they actually germinate. Let kids learn about plant formation from seeds.
Rain inside a jar – It can now rain inside the jar. So make it rain and teach the water cycle. Yes, evaporation and condensation can be easily taught using this experiment. For more details, I can teach my child
Dry ice and sublimation – Sublimation can be quickly taught with dry ice. The coldest ice creates smoke. But be careful and no let kids touch as it will damage the skin. For more details Tinker lab
Potion making is loved by all kids and there is no exception and I swear that it gives immense happiness in exploring the reactions taking place chemically in a fun and playful way. Kids can try themselves is the additional bonus. Powol Packets do not have dearth to Love Potions Projects. Even at Buggy and Buddy, they do potions with extra foam and yes by adding liquids used to wash vessels in the kitchen.
Underwater candle – It is possible to make a candle glow under water. It is a simple trick. See this experiment and candle glow and wax holds the water.For more details Youtube Candle Science Experiment
Ornaments with salt – Salt is nothing but sodium chloride NaCl. Everyday kids eat this chemical and must learn about the science behind it. Let them make some ornaments with salt and as well understand about the chemical properties. Concept of baking and production of heat is also explained in this experiment. For more details The picky apple
I Heart Crafty Things has posted a new idea for future scientist and here –making a butterfly with tissue papers are simple and even the flapping wings are shown using static electricity.
Vinegar and baking soda make a wonderful combination and they are just fun to kids due to its fizzing sound. NurtureStore displays the best part made by her girls and these are glittering and fizzing plus looking great with molds that are heart-shaped (can anything else be more attractive for a Valentine party?). Buggy and Buddy showcase the ways in which adding vinegar that is colorful along with pipettes creating a bright and nice to look fizz work. Again Powol Packets have their work with innovation and their fizz are sparkling ready to explode.
Elephants can now brush teeth – Have ever imagined elephants brushing teeth? It is fun to visualize. With this paste now elephants too can brush their teeth. Breaking down hydrogen peroxide to water and oxygen is the science involved in this. For more details The preschool powol packets
Acids and Bases – Use this red cabbage juice to teach kids about acid and base. You can take vinegar for acid and baking soda as a base. Mix them in a glass of cabbage juice to see how acids and bases react. For more details Steve Spangler
Again Buggy and Buddy have presented a great activity with salt and oil. Here you can find the density of water
How does milk react with liquids used to wash vessel that contain lemon and food colors? Eager to know this yes you can find it at our place and we named it Swirling Milk. You can also see how Best Toys for Toddlers has named it Milk Marbling. And, another innovative name kept by Messy Little Monsters is Magic Milk Fireworks. Irrespective of the name this experiment will surely win the heart of the toddlers.
Dye on heat – This experiment will explain why dye works. How does it work? Get one coffee mug and markers to allow kids to write their names in a coffee mug. Teach them about heat and baking. For more details a beautiful mess
Once again Buggy and Buddy have an experiment for kids that talks about exploring center for rocks which certainly encourage kids to learn about geology.
Check out for wild carrots which are the Queen Anne's Lace and these flowers grow in any place. At Fireflies and Mudpies, all kids become great artist painting them green, yellow and blue. Witness the same coloring activity with chrysanthemums at the NurtureStore. (You can see them with gerberas at our site also tried with numerous white colored flowers to demonstrate the color absorbing capacity.
At the age of 3 and 4 kids will love the experiment walking water where the demonstration of capillary action and color mixing is really amazing. Here the colored water will move the paper up fighting gravity. Wow! Apple Green Cottage explains this in their site using a paper towel and glass jars. Also, you can see this experiment that uses cold and hot water along with different paper at Royal Baloo .
Multicolored Celery – See this little girl carrying out an experiment with celery sticks. She demonstrates how celery color changes. Take two glass with water, one celery stick and dye colors for following this experiment. For more details Youtube celery
Want even EVEN more ideas?
Find more inspiring ideas on our page exclusive for kids aged 1-2 years – feel free to make some small changes and they will become workable to elder kids as well. (My kids repeat the same activities at different age and learn things per their knowledge at that age. Off course there is no dearth to the fun as well.)
Also, you can find activities for kids aged 5-6 years and click on that page. But remember to provide help to your kids as they need support.
Above all check them on the Pinterest board Fun Science for Kids
Let us know which experiment does your 3-4-year-old kids loved to do.
Please Note ...
Please provide support to kids and never leave them alone. Ensure to stay with kids and allow them to do only the appropriate activity relevant to age and the skill set they have. Click here for more information.