Best place for kids to learn science can be none other than Questacon. In Australia, this is one of the best tourist spots which everyone will admire. Localities will visit frequently to educate kid about science. Let me share my views as I have two kids and would like to let you know how it will be beneficial for kids.

Image:Source
Where, When and How to Visit Questacon
It is located on the southern shore in Canberra. Lake Burley Griffin is the landmark for Questacon National Science and Tech Centre. They are open on all days except 25th December, the Christmas day. The visiting time is 9 AM to 5 PM. However, entry is stopped after 3.30 PM. Minimum two hours is required for visiting and hence you need to make yourself available for at least 2 hours.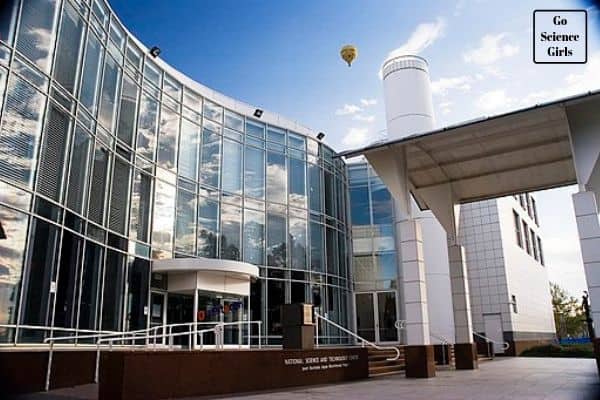 Image:Source
Reach any of these following places by bus or train and you can walk in not more than 6 mins to the National Science and Technology Centre.
Parkes Pl National Rose Gdns
King Edward Tce Treasury Building
Parkes Pl John Gorton Building
King Edward Tce After Bowen Dr
King Edward Tce National Library
School bookings are also allowed and you can find the pricing and other details here. It's good when kids go with the school as they can understand better. However, you can take them during vacation and provide personal attention to each and every activity. The ticket price for individuals is 23 dollars and kids 17.50 dollars. Children up to 4 years are charged nothing. For members also it is free. Family of 2 adults and 3 kids can purchase a ticket for 70 dollars.
Highlights of the place and how kids can have fun
There are close to 200 exhibits and all are interactive as well as related to science and technology. The primary purpose of the center is to interact with kids and educate them on basic science concepts. Suitable for all age group kids.

Image:Source
There are eight galleries and let us see each one in detail and understand which age group will benefit the most.
Excite@Q
Any age group kids can find this gallery great and it is one of the best galleries to visit. Parents beware, this place is quite busy and you need to keep an eye on the kids. The thrilling part of this gallery is the six-meter slide. Then come to the air hockey and your kids can play this with the robot. Kid's reflex action is challenged when the chase the scarves while they fly via the pipes.
Another gallery suitable for all kids is the ABOVE and BEYOND. However, this is not part of the 8 galleries and it is a temporary one, Boeing is the presenter collaborating with NASA. Hence it is named as Above and Beyond. The concepts of augmented reality (AR) and simulations are taught here. Kids are allowed to make their space ship with innovative design ideas.
Mini Q – 0 -6-Year-old kids

Up to 6 years kids will love this gallery as they can relate to things at their level. It is more like a museum and play area. Several activities are displayed letting toddlers and kids until age 6 have fun. They are divided into many zones and every zone allows kids to do experiments. Yes, hands-on and they can feel proud about the scientist inside them. They can try and succeed to feel happy. Also, they can try and fail to retry. In general, this is the place for learning and relearning. Here kids can observe, predict, test and refine their model. Therefore little ones are allowed to think and expand their imaginative skills. Particularly, the zone that represents places including a construction site, grocery shop, hospital, etc is depicting the real-life places.
Foyer 6+

ROBO Q is the best part of the gallery Foyer. Kids are free to control the ROBO the way in which it speaks, sings or makes gestures. The touch screen is easy to learn and anyone can make an attempt and play with the ROBOT.
Science Garden 6+

Typically the garden area where kids can see the sun, rock, wind, and water. They can create rock music by discovering the wind direction. Several displays that add joy to kids are the small lithophone, rock xylophone, Mobius, Fundial, Granite Ball, Flickering leaves and much more.
Q Lab 7+

This is part of the center since inception and contains many scientific activities. Also, they keep updating to latest standards and hence it is beneficial to all. Use the video microscope to view the world differently. The giant periodic table is the topmost feature of QLab and the actual samples of 94 elements make it more special. 7 years and upper with no upper limit and each of you will enjoy spending time here.
Awesome Earth 8+


Image:Source
Have you ever felt an earthquake? No, and we don't want to. But you can understand the tremor and the feel of an earthquake in this gallery. Learn gravity, heat, and momentum. Detailed analysis using the data collected by scientist will give you a clear understanding of how all the factors get together to make the earth we are living in.
H2O – Soak up the science – 8+

Joining hands with the national water commission this interactive exhibition is set up. The purpose of setting this is to make kids realize the value of water. As part of this initiative, there is a water treatment plant developed that is used in recycling the water used inside the exhibition. This will let know kids about water conservation. The little one will witness the process of recycling and will feel glad to learn the concepts. Trust me, children will enjoy and appreciate the efforts as well as become responsible for conserving water.

The Shed – 10+

Older kids will find this place good as there is a lot of rooms for experimenting and inventing using their ideas and tools. Tinkering studio is the highlight and visitors can create a design and make it work. There is no age limit to learn and anyone can try their design and make it work.
How can kids benefit from Questacon

Image:Source

With several galleries, kids get a chance to learn science in different perspectives. They just not visit the galleries alone but are allowed to perform hands-on activities.
The STEM (Science Technology Education and Math) way of education becomes easy here as they can do many experiments. This will kindle their thinking skills and when they perform the activities their motor skills are activated. Also, they feel empowered to do things on own which will motivate them to learn more.
They observe other kids and compete with them to complete experiments and healthy competition is built. This will further make them think and their imagination becomes wider. They get ready to meet the world with a lot of practical knowledge.
I suggest personally, taking kids to this place often will let them learn concepts at a different age. They will interpret the same thing in a different way based on their age and hence it will widen the horizon of thinking.
Interesting Places You Can Cover in the Neighborhood of Questacon

Image:Source

Several other national attractions in the vicinity of Questacon are listed below. You can choose places and take kids to spend their vacation in a constructive manner.
Museum of Australian Democracy at Old Parliament House
Detail about historians who were the reason for a shaped society is presemted here with details. You can take kids here to learn about history and its significance.
National Electoral Education Centre
The election process is understood by visiting this place. Kids will know about the constitution, law, and parliament. Why should they cast vote when they grow is nicely portrayed in this place. At this young age, lessons taught will stay forever in their mind.
Collection of Australian History in the form of education programs, events and exhibitions are organized in the national archive.
The Art gallery has 100,000 and more artworks. It is one of the world-class exhibitions and kids will really have a great time here admiring the artistic sense.

Image:Source
Holden Prototype No1 and Phar Lap's heart is kept for display in the museum. This is just a sample, and you can find many more important items preserved for providing knowledge to the visitors about Australia, its culture and value.

Image:Source
Documentary heritage of Australia is collected in the form of books in the National Library. Book worms will love this place and have so much information to provide with.

Image:Source
Australian democracy is represented in the Parliament House. This being the focal point of the city is a must to visit place in Australia.
National Portrait Gallery
The pillar of the nation's portraits is displayed in the portrait gallery. There is just not a few numbers but 400 portraits of different people are kept here.
If you like our review of Questacon, you might want to subscribe to our Go Science Kids newsletter. We will keep you informed about all our future reviews like this one. You will also be the first one to know about any new sciene activity that we publish on this website.
You can find more such places to visit with your kids listed here. See our recent review on Australian Museum here.
What's your favorite go to place with kids? Comment below and let us know.