Can you imagine! Teaching little babies' science has become easy now.
Yes, with the help of science experiments.
I created this page to list down all Science Experiments for Toddlers (in the age group of 1-2).
I know that toddlers crave for attention and their mind is curious to explore everything they come across. Be assured, these are golden period for any kid as 80% of brain development happens below 3 years of growth. This is the right age to introduce science.
Yes, I am not joking and I have done it with my two daughters. We have collected several experiments suitable for kids of age 1 and 2. Here in this article, you will find a brief intro for the experiment and the link where you can find the detailed steps to do the activity.
Spend quality time with kids from their young age, as tender age is the right age for them to grasp things quickly.
We have crafted our toddler section having this in mind. Our activities help develop their motor skills and kindle curiosity about science. We strongly believe some of these activities will be well suited to try at your home with your little buds.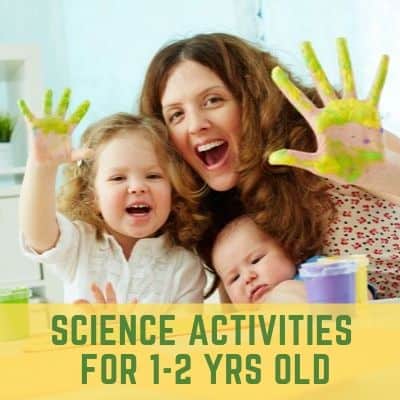 Science Activities for Toddlers (1-2 Year Olds)
Looking for Even More Science Activities for Toddlers?
Here is a collection of toddler-friendly ideas that we have collected from across the web:
I am glad to give you so many science experiments that you can teach toddlers. Don't think these are a high standard for kids. You will be amazed to see their grasping power at this young age. Try and share your experience.
Well, if you are in activity spree and looking for more science ideas for toddlers?
Most of the activities we try are taste-safe (non toxic and no hazards). If you have a grown up kid – try our Science for 3-4 Year Olds page for ideas on experiments that doesn't have any mouthing things. We keep our experiments open-ended; that means you can create variations of these activities to suit your kid's age or personal favorite.
Which one of the above activities are your favorite? Have you tried any one – do you like them? Let us know – what else would you want us to do?
Please Note ...
Though we encourage kids to try these activities independently, we request you to have a constant supervision i.e. be with the kid when they try these activities. Only parents will know what activity will suit their kids (based on age group or interest). Check for more information here.