If you are looking for easy to do science experiments for Primary and elementary kids, you are at the right place.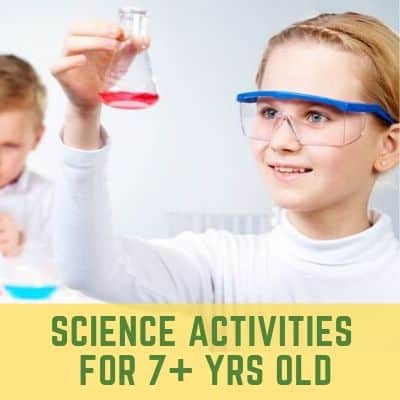 This page contains science experiments which we have done and classified in section 7 – 9 years old.
Almost all of the experiments are simple ideas that you can do at home with your kids. Looking for school science projects, we got you covered as well.  These experiments will help you teach science in the best way possible to your kids.
Keep visiting our page to get ideas instantly. You can also subscribe my page and I will send you updates frequently.
Fun Science & STEM Activities for 7-9 Year Olds
Want even MORE science fun?
We have taken some efforts to collect science activities which can be done at home and educate kids about science concepts. Made your life easy by giving the link below. Check them out and make your growing kid a scientist.
Rocket science – Wondering how to teach rocket science to kids of grade 3? Yes, now you can with this simple bottle rocket. All you need some materials which you may throw after use. Use them and make a rocket to teach real-time rocket working principle for kids. For more details Wiki how rocket
LED Lights with magnetism can help make constellations at home. Glowing lights add brightness to your project. Presented by Buggy and Buddy.
Balloon Project – See how this small lad does the balloon project. He is using the Spanish immersion technique. Follow this closely to understand and then teach to kids. For more details GVA Schools
Some animals are sensitive to UV light. We need to build a shelter for them and protect them. Try this and also test them with beads sensitive to UV lights. Source: Buggy and Buddy.
Left and right coordination – This is really an interesting experiment to kids where you can ask them to do some real things to understand the usage of their right and left hand, leg, eye, and ear. It is not only science but a life lesson. For more details Faculty Washington
We did boat powered by vinegar and now try this one and power your boat with a balloon as JDaniel4's Mom did.
Wind Anemometer at home can happen quickly with "There's Just One Mommy" idea. You can also become that one special mom to your kid.
Water Purifier DIY – Teach children about water purification and conservation. Demonstrate this experiment to make them understand about the concept practically. States of the matter are the science behind this lesson. For more details Lifestyle HowStuffWorks
Make noisemakers and they will spin too. Sound and noise lessons can be mastered within no time with this experiment. Source: What Do We Do All Day?
Chromatography – The science of colors is not that tough as we pronounce chromatography. Let kids understand black is not always black. Let them paint on their own to know how colors are formed. For more details, Babble dabble do
Now witness hurricane inside the bottle. No, you need two bottles. Try this to teach astronomy lessons to kids. "My Joy Filled Life" teaches about weather using this experiment.
Chemistry, periodic table, and potion all can be taught in one shot. Follow this NurtureStore steps.
Engineering challenge – Challenge your 8-year-old child to make an aircraft. Yes, this is an engineering challenge to a 3rd grader. But trust me you can make them master the science at this young age with this experiment. For more details The home school scientist
Flower anatomy can be explored during this spring using KC Edventures post. Also, NurtureStore published a similar post with the name daffodils spring science.
Rock testing and limestone, most interesting geology lesson. "KC Edventures" has made it possible with things available at home.
Lemon Current – Kids might have tasted lemon rice, pickle or juices. But they will learn to generate current from the lemon. Its all fun and electricity taught on the go. For more details Reach out Michigan
Even using loom bands now it is possible to create constellations. Yes, on a geoboard by following instructions given in From School Time Snippets.
Water wheels in 3 ways can be tried to get an opinion from a kid about which is the best. JDaniel4's Mom did the same and you can now do it.
Directions and compass – Physics concepts are easy to master when kids can see them in reality. Therefore we decided to give this DIY compass making lesson with details. Teach your kids to make one and explore all the four directions. For more details Schools science experiments
Cool! igloo house presented by Preschool Powol Packets. Bit of science and engineering skills are required. But loads of patience and fine motor skills are a must.
Explode with Mentos and Coke. Sounding great na? Yes, the explosion is always excitement to kids. The Check out all three methods demonstrated by Lemon Lime Adventures.
Making Borax crystals are possible and do you know how? Check out few from our site Also try from One Creative Mommy and Little Bins for Little Hands. Same concept but different methods tried. So we would want you to try all of them.
Without mercury, you can make a thermometer. Source: What Do We Do All Day?
Even take kids for outdoor activity and launch a rocket with PVC pipes. Proudly presented by Preschool Powol Packets.
Plastic making – Teach about plastic and its properties with this experiment. Let the play ludo this vacation by making their own dice. Yes, dice made from milk. For more details Storm the castle
With some store-bought supplies you can move to the next level and see fizzling and bubbling from sedimentary rocks. Beware and exercise caution wear goggles and don't miss the fin. Source: Preschool Powol Packets.
Springtime activity to make fertilizer at home. The idea presented by Planet Smarty Pants.
Glowing water – Phosphorous in highlighter dye will glow with the ultraviolet radiation. You need a highlighter pen, black light, three bottles with water. With these easily available things, you can make water glow. For more details Cool science experiment
NurtureStore explains about crystals and alums. We call it diamond making tutorial.
"Planet Smarty Pants" has ideas for kids to find different substances. You can now challenge your kids with this experiment to find substances.
Power generator potato – Not only does lemon produce electricity but potato also has the power. See this experiment to understand how the French fries main ingredient potato generates power. Exercise caution when doing this experiment with kids. For more details Teach engineering
For those crafty kids, you can teach them circuits and electronics. Just like Artsy Momma did by making a birthday card which will light up when you make a wish.
Fire not burning money – Money is made of paper in all countries. But do you know candle cannot burn this paper? Want to know how? You can teach heat, heat transfer, and temperature in this experiment. For more details Videos math tutor
Twist the soda can but without touching. Yes, a magical twist. Teach physics this way during this summer vacation. Source: Kids Minds.
Explore about liquids even if you don't know about them. It's time to not only think but to act like a scientist. You child is nearing 10 yrs and teach them this way of thinking Just as Planet Smarty Pants.
Train and its working principle – Every kid loves a train and they watch the moving train. This experiment will allow them to make train just with a used matchbox. You can teach them the working principle of the train during this time. The big concept with easy experiment.
What Do We Do All Day teaches you to make your own zoom ball and all is done with inertia. You can now decorate with your own creativity to add more fun.
Lung Function – With balloon and plastic bottle show how human lungs work. It is really nice to explain to them how they breath using a practical lesson. Explain them and allow them to make one on their own with these easy instructions. For more details Paksc
Making a boat with vinegar and baking soda is really a powered experiment. Vinegar is that ingredient which adds power. Sugar Aunts presented this novel idea.
Skeletons on a board. A 7-year-old can draw but for that, you need to make a board that looks like a body. With this experiment, kids can master about bones and also understand body organs. "Fantastic Fun and Learning" made this to add a kick to their Halloween party.
Homemade solar eclipse – Eclipse an important concept can be quickly explained with this experiment. How many ever a time to teach theory students will not remember. But this simple experiment will make them love physics for a lifetime. For more details Instructables
Now making magnetic slime at home is possible. Try the steps given by Frugal Fun for Boys and Girls to make fun at home with your little lad or lady.
Indicate pH just with cabbage. Don't stop and continue to play with base and acid available naturally on food products to make potions that change color. Mastermind behind this activity is: What Do We Do All Day?
Make a cartesian diver yourself. This will help teach buoyancy lessons to kids. There are different versions you can try from the following sites.
Hydroponics garden – Let the kids learn how to grow plants. They by now will eat on their own. So let them understand what they eat and from they come from. Using this experiment let them witness germination, nutrition, seedlings, and the entire plant lifecycle. For more details Epic gardening
Use these experiments to teach daily life science to kids in an easy and fun way. Kids will love to make their hands dirty to learn. This way of teaching will make them remember concepts for their lifetime.
Want even, EVEN more?
You can find more experiments, ideas, and activities by browsing out 5-6 yrs old activity page and they are relevant to your 7+-year-old kids. But you can adjust some portion and make it challenging to the bigger ones.
Ask 7+-year-old kids to document the work. Observe variables and also hypothesize some ideas. Be with them and that is the best way to polish their skills.
Do you know of any other cool science ideas that are perfect for 7-9 year olds? I'd love to hear them!
Please Note ...
Each activity published on this page requires support from adults. Elders please make sure and decide which experiment is suitable for your kids based on their age and maturity. Click here for more information.