We made borax crystal flowers this week!
This is more exciting and easy activity for kids. Sounds amazing right!! So continue reading the post to know how we can make attractive crystal flowers at home.
Actually my kids Tisha (5 years old) and Prithika (7 years old) gave me an unexpected surprise i.e. 'Beautiful crystal flowers'. Yes, we have been trying borax crystals using pipe cleaners in different shapes. This time we chose to make flowers using pipe cleaners and surprised me growing wonderful crystals on it.
Let me explain you the complete procedure of making borax crystal flowers which I have learned from my daughters. 🙂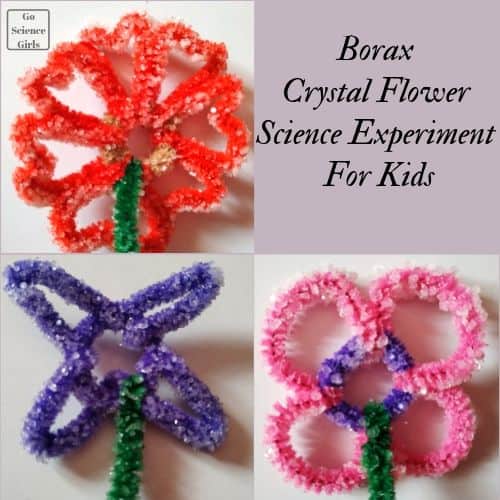 Suitable For
This activity is perfect for
kids of 5-6 years
and
older kids
. Even adults show interest to make these attractive flowers as these flowers are used in different ways to make their home attractive.
Crystal flowers are perfect as decorative piece in your parties, home decors and much more. Let us start our experiment.
Things required to grow crystal flowers
We require very few ingredients as usual. All the supplies are easily available in any of the nearby grocery stores. Gather all the ingredients before you start the activity. So that it gives you hassle free learning experience.

Making Borax Crystal Flower
The pretty crystal flowers is a perfect fun art and spring science project for kids to do either in the home or in the class room. Growing sparkling crystal flowers add little sparkle to your kid's life making them more active while learning some STEM activities. Let us bring out those 'STEAM' skills in our kids. Confused of 'STEAM'!!? Hahaha… it is nothing but STEM+ART = STEAM J
Step-1: Making Pipe cleaner flowers

1) Give your kids some colorful pipe cleaners and ask them to come up with their own craft ideas on how to make flowers. This helps to build creativity skills in your kids. Also give them extra green colored pipe cleaners in order to make stem for the beautiful colors. My kids made a beautiful red heart flower. It is so beautiful to watch. I decorated my home by placing it in the vase.
Guide to make super cute fake pipe cleaner flowers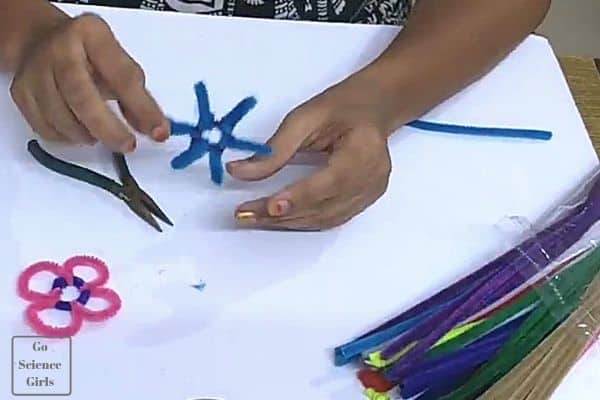 Follow the figures we have uploaded to get better picture on making fake pipe cleaner flowers.
Firstly, make a circle (required size of your wish) with any of your favorite color but choose some nice bright colors. Here in the figure my kids used blue color to make a circle shape.
Secondly, take some pieces of pipe cleaners (about 2-3 inches) and bend inside to form loops. You can make as many loops as you wish to have.
Now attach the loops to the circle which is made in the first step. Your beautiful pipe cleaner flower is ready to grow crystals in borax suspension.
We also tried making flowers in different shapes. This time we made loops in heart shape and attached to the circle. We used attractive red color to make heart shaped loops and contrast cream color for circle.
Use some nice bright green color to make a stem for the flower. Wrap the green pipe cleaner around any one of the loops and leave the rest unwrapped to give a stem shape. The length of the stem depends on your glass cup length. Always adjust the length of the stem according to the depth of the glass cup so that it should not touch any sides or bottom of the glass cup.
Now attach one end of the stem at the center point of the circle and make the green piece pipe cleaner straight. This completes your fake pipe cleaner flower.
Step-2: Making super saturated solution
1) Take required amount of water in a pan and keep it on the stove. Bring it to boil until the water forms bubbles on the top. Then switch off the stove and keep it ready to make borax suspension. (My kids took the help of their father in this step) J Pour off the boiling water into the glass cups. Make sure the glass cups are wide and large enough to drop the flowers.
2) Now add a spoonful of borax powder (each turn) to the boiling water slowly making sure that the borax powder is dissolved completely. Keep stirring until all the measured borax powder is dissolved in the hot water. The correct measurement for making a perfect super saturated borax suspension is '3 table spoons of borax to 1 cup of hot water'.

3) Do not add too much borax powder to the hot boiling water as it makes the water cloudy dues to which the end results also appear cloudy. That means our beautiful crystals also appears cloudy.
4) You may see some undissolved borax on the bottom of the container. But it is totally fine. No need to worry about it.
Step-3: Drop the Pipe cleaner Flowers

1) Tie the beautiful flowers to the pencils or craft sticks using stems. Now dangle the flower heads into the glass cups. Keep in mind that the flower heads should not touch the sides or bottom of the glass cups. So adjust the placement and length of the flower heads inside the glass cups as necessary.
2) Now let your flowers sit for few hours or overnight to see the amazing results of growing crystal flowers.
3) After few hours, you can see the crystals growing your flowers. Once the enough crystals are formed to your liking, remove the flowers out of the glass cups and set the crystal flowers to dry. Enjoy your lovely and sparkly crystal flowers!!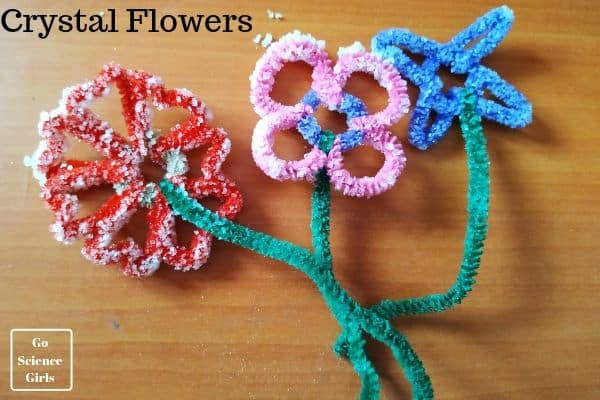 Science Behind Crystal Flowers
Firstly, crystals are formed by regular and repeated pattern of molecules linking together. Commonly crystals come in geometric shapes with straight and sharp edges and smooth surfaces. Crystals are formed when a super saturated liquid gets cool after dissolving the mineral molecules completely. In this experiment, the super saturated solution is formed when the borax powder is mixed with the hot water. The heated water molecules make more room for borax molecules to get dissolved and once the hot water gets cool the water molecules again combine together leaving no space for borax molecules to dissolve. The extra borax molecules start attaching to the pipe cleaners forming beautiful crystals. Once the borax suspension reaches a point where it cannot dissolve any more borax, then the solution becomes super saturated.
Tips
1) You can make edible crystals and crystal flowers using real flowers. Try it once to keep your kids engaged in this spring season though it is fun all year around.
2) It is the best craft cum science project for kids but it is better to attempt once they become mastered in easier to grow crystals.
3) The crystal flowers require no extra care except occasional light dusting (every day or alternate days).
4) Experiment with different elements and factors using the same activity. Ask your kids to observe and note 'what happens if the cooling rate of the solution is changed by refrigeration'.
Hope you all are amazed reading the post and learned making beautiful crystal flowers at home.
Interested in more crystal making experiments, try our Crystal Science Page, including:
DIY Amazing Crystal Snowflakes
Interlocking crystal hearts
Make your own snowy salt tree
Crystal candy cane and crystal christmas tree for your christmas decorations.
Disclaimer : This post contains affiliate links from Amazon. An affiliate link means that when you purchase using the link provided in this page, I would get a small referral fees WITHOUT any extra cost to you. I highly appreciate your understanding and support.