Fun Science Project : We are back with one more bubble wands DIY and it is Valentine's Day special! Learn to make a heart-shaped bubble wand and express your love to kids. They can also learn some bubble physics with fun.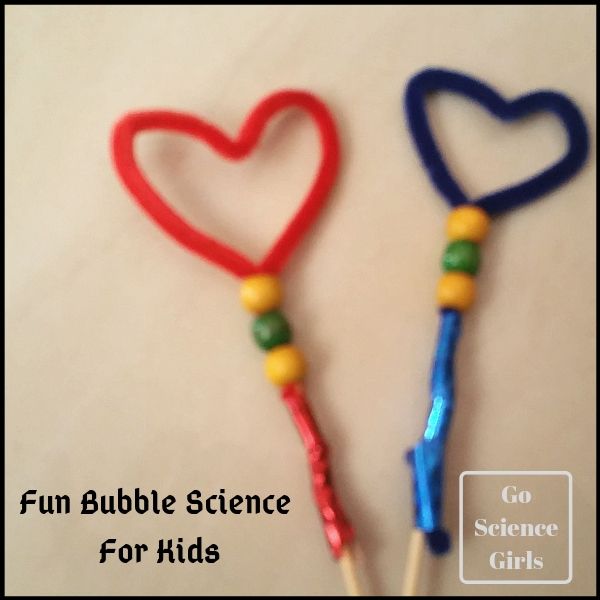 We love making bubble wands and blow a dozens of bubble in the air. I play with my two little girls in our backyard. This time we decided to make a heart shaped bubble wand.
Suitable For
My niece aged 3 loves to play with bubbles. She loves it since I met her first when she was 1 year old. So I can guarantee you that age is not a barrier to enjoy playing bubbles.
Babies will look at them and try to touch them but preschooler and KG kids will learn how to make it and how it works.  Older kids will make their own and will experiment on several aspects.
Make sure to ask them the shape of the bubble once the wand is ready and before they blow they must predict.
How to make a Heart Shaped Bubble Wand
Things required
scissors
chopsticks
6mm pipe cleaners (also called chenille stems)
Following two items are optional
Pony beads – Solid white and transparent red
tape (suiting color)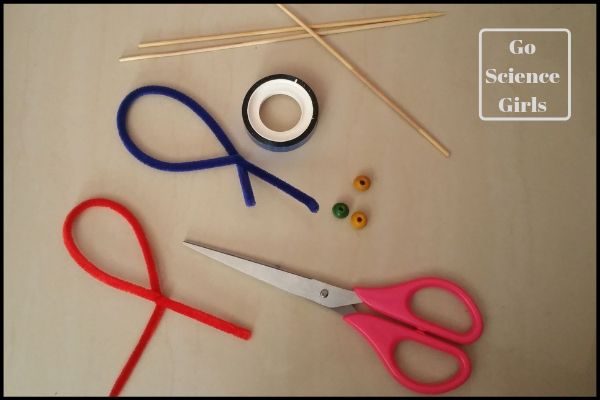 Needless to say that I did two wands and I am sure most of you who visit my page regularly will know the reason. For the first time readers, I will tell you. I have two angels aged 6 and 4 and hence I always make 2 wherever possible to allow both to have fun individually. It does not take more than a minute or two to complete the work provided you have all the things ready on your desk. 
I took the pipe cleaner and made a loop, twisted and created an oval with 2 inches left on the ends. To make it look decorative I used pony beads and threaded them. Tied the pipe cleaner end to the chopstick and made it the handle.
Additionally, I wrapped red tape to the chopstick to ensure grip and tighten the pipe cleaner in its place.
I have tried making it without tapes before and there won't be any difference in the performance. Only for little kids, this will provide a softer grip. Finally, by bending the oval I made it look like a heart-shaped cleaner. Now, I did the second wand following the same steps.
Now, you can ask kids about how they will work, what will be the shape of the heart-shaped bubble wand, etc. Let them guess and make some assumptions before you actually blow them.
Then allow them to check the results !
Fun Bubble Science Facts
Check Easter egg-shaped bubble wand to understand the scientific fact about bubbles and it's working.
Pritika knows that the shape will remain round as she has tried with different shaped wands before. But this time she tried with different breath pattern and observed the bubble size. The slow breath will form big bubbles. The fast breath will create many bubbles but small ones.
She attempted slowly to look at the shape of the bubble inside the wand. She managed to make it look heart-shaped inside the wand.
When she released slowly it looked around on one plane and heart shaped on the other plane.
Pritika learned science in a fun way and changed the variables to modify the result into different size and shape.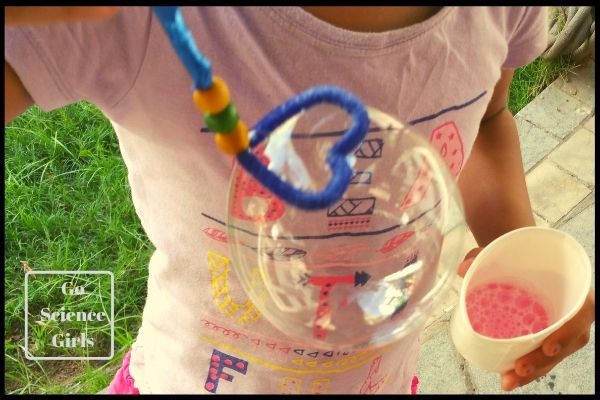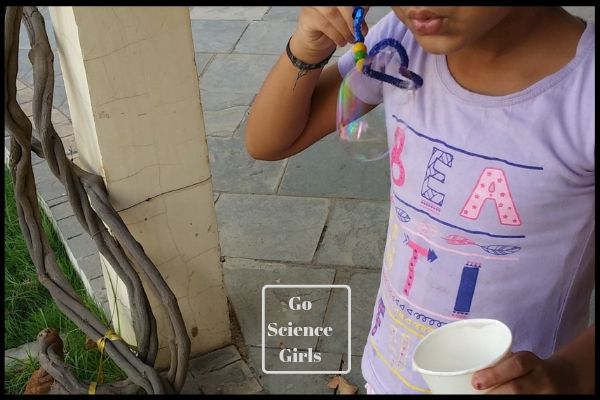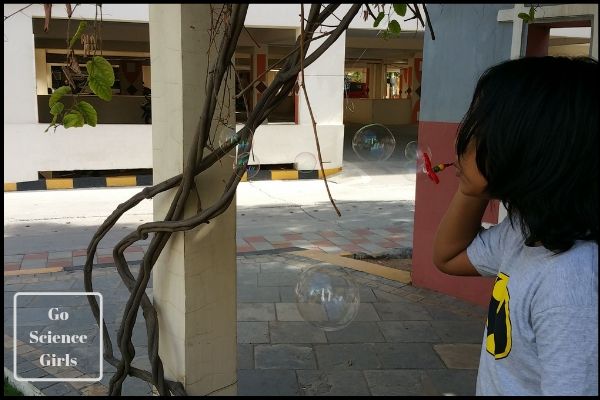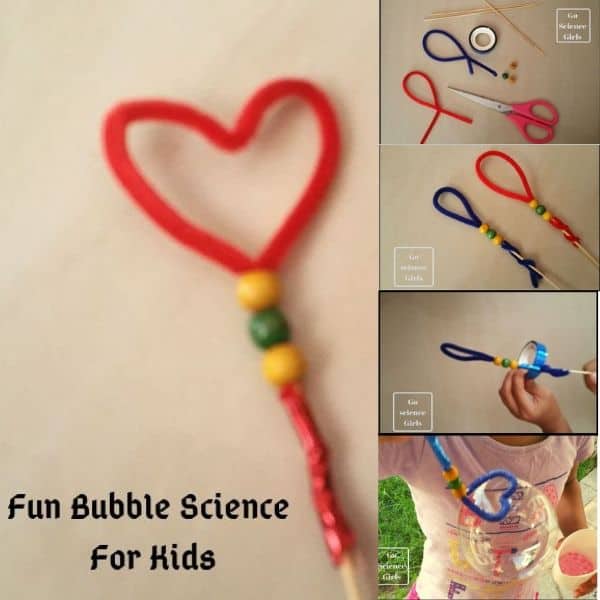 We have listed numerous bubble science fun activities and check the links given below to play as well as teach science to kids.
Physics fun activities are available at Physics Experiments for Kids
 We are available on Pinterest as well and we welcome you to follow us
We also gladly welcome you to subscribe to our newsletter and get alerts about our updated posts and activities. Please join us and add value in your kid's life by teaching them science in a fun way.
* GoScienceGirls
is a participant in the Amazon Services LLC Associates Program, an affiliate advertising program designed to provide a means for sites to earn advertising fees by advertising and linking to Amazon. This helps us to stay afloat and do more of such science experiments.