In this article, I have compiled over 25+ printable science journals that are available for free download. You can make use of them to practice at your home with your kids.
What are Science Journals ?
Science journals are nothing but journals that consist of original research information, tested and untested theories, analysis of various science concepts.
To put it simply, science journals help kids to learn science concepts using inquiry-based observations and investigations.
So, exploring various science journals is vital for kids to better understand various science concepts and theories.
Printable Science Journals For kids
Bug Log
A journal that reveals the characteristics of bugs like habitat, location, defensive mechanism, eating habits, and living conditions.
Creature Log
A unique journal that helps students to explore the creatures they see and observe. This journal includes space for every characteristic of that particular creature like texture, color, location, habitat, interesting abilities, and eating habits.
Dissolving Candy Science Experiment
This is a perfect STEM activity that keeps students engaged for hours and improves their critical thinking skills. And helps them to record their data of investigation on every liquid they use in the experiment.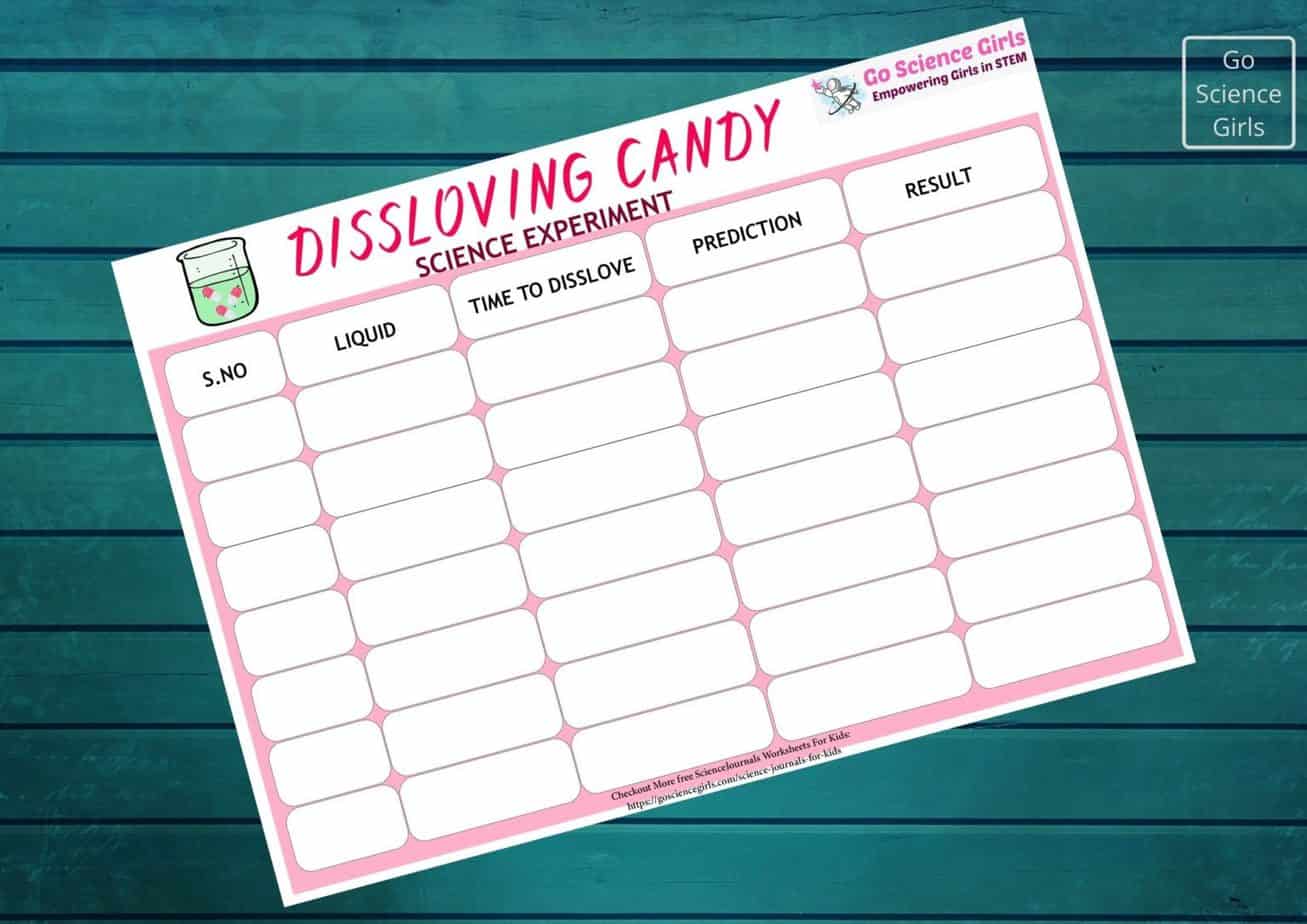 Good Food Journal
Most of the kids are fussy type in regards to food and their eating habits. Include this worksheet in their daily activities routine and ask them to color the graph of each food group. Very exciting and interesting food chart!
Moon Journal
Does your child interested in space and does not want to miss out on the changes happening around the Moon? Here is the best journal that helps children to record their observations and data of Moon phases every day in tabular form.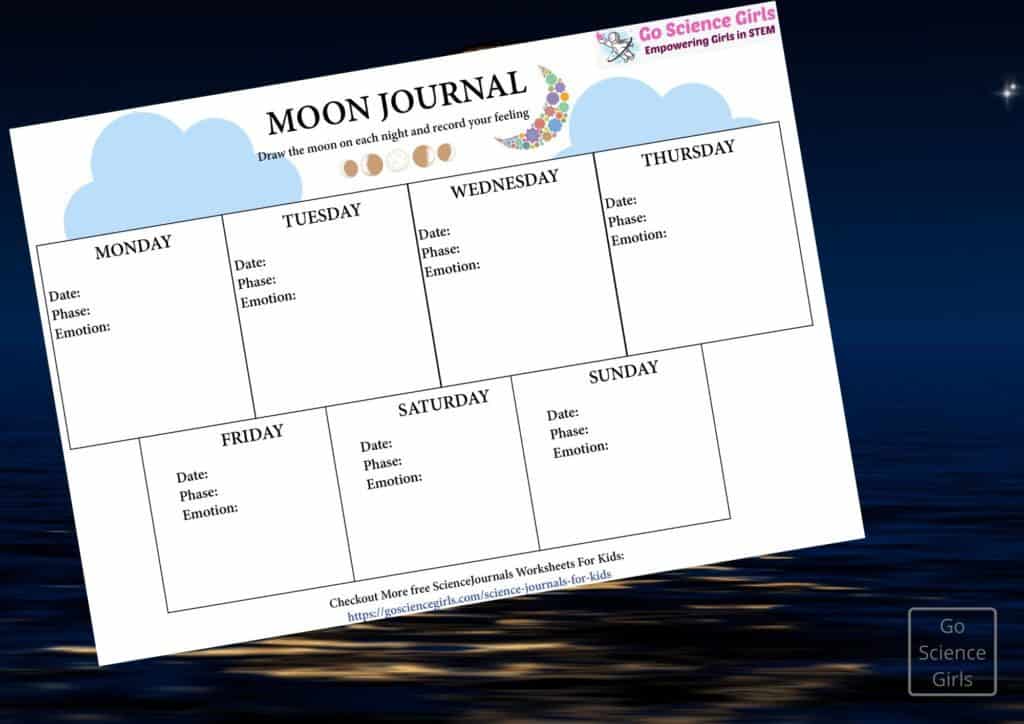 My Science Journal
Find out the best chart that records everything about your child's exploration of different scientific concepts through experiments.
Seed Observation Journal
The best journal that helps your child to align with the goals of seed germination by recording its data and observations through every phase. Children can note down and even draw their observations in it.
Recording Temperature
This is a simple tabular chart journal that helps in recording temperature observations in both Centigrade and Fahrenheit degrees.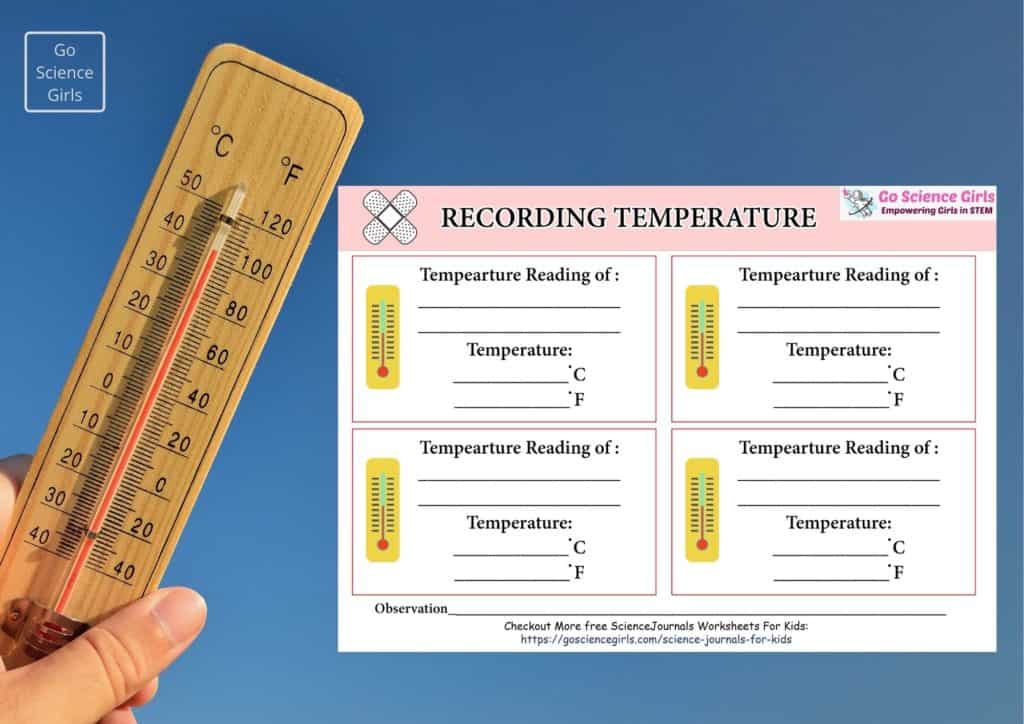 Experiment Journal
Students are curious about performing investigations and experiments learned from their classroom lessons. The experiment journal focuses on the various investigation fields of that particular experiment either performed in the class or at home.
The 5 Senses Science
The 5 senses science journal aims to support children while exploring their 5 senses like sight, hear, smell, feel, and taste. So, children can practice this journal using their senses and develop good senses practically.
Scientific Lab Report
Scientific lab reports communicate the analysis and outcome of scientific experimentation! And this includes title, scientific name, and objective of the experimentation, materials used, procedure, and results.
Science Journal
Science journals are the best way to describe the hypothesis, procedure, and conclusion of the scientific experiment. Children just need to investigate the experiment and record their observations and goals in this journal.
Constellation Journal
A group of visible stars that make different shapes in the celestial sphere is a constellation. And this journal helps students to identify and trace different constellations.
Identify Animal and Bug Journal
In this journal, different animals and bug pictures are grouped in a box. Students need to identify what is an animal and which is a bug from the box and need to paste it in their respective columns. 
Matching Baby Animal to Mother
A great journal for engaging young learners who are just introducing to animals. It is so simple to do this journal as it asks for matching baby and mother animals by identifying the pictures.
Day and Night Pictures Journal
There are many things in this world but everything is subject to its inhabitation likesome belong to the day while some are determined to the night. Explore this journal to find out things that belong to the day and which belong to the night.
Differentiate Hot and Cold Items Journal
A simple and easy way to explain to children about hot and cold things. Also, this journal helps in making differences between the hot and cold characteristic properties.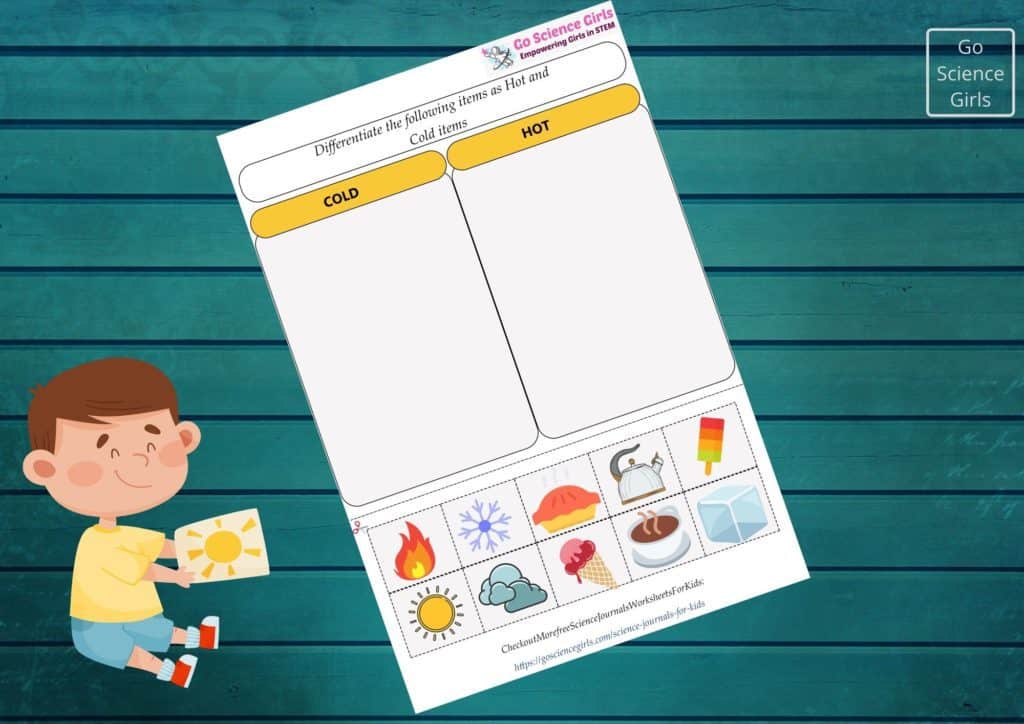 Living and Non-Living Things Journal
This world is a combination of living and non-living things! What is a better way to learn about the same apart from this journal for young learners! Just cut and paste and learn a lot about living and non-living things.
Magnetic and Non-magnetic Items Journal
We are surrounded by many items in our daily activities and unknowingly we notice some magical magnetic properties by some things. Let your children learn about magnetic and non-magnetic things by exploring different things around them through this journal.
TreeMap Vocabulary for caring a Plant Journal
The best way to learn about plant science and its vocabulary through simple charts presented in this journal. Make your child a pro in using plant science terminology.
Recycle and Create New Products Journal
A great journal that describes different materials that are recyclable and help in creating new products. Exploring this journal works effectively to introduce children to recycle materials and helps while differentiating trash and re-use materials.
The Four Season Journal
An easy and classic way to introduce your little ones to four seasons of the year and their impact on the weather! Students get to match the seasons to their respective and related pictures, perfect for kindergarten and elementary students.
Floating and Sinking Items Journal
Explore this fun journal and introduce your young learners to the basic concepts of floating and sinking items. Your child or student can differentiate between these two items and even make defined predictions.
States of Matter Journal
Explore different pictures that symbolize different states of matter and are noticeable in everyday life. This journal is super-exiting and hands-on to get kids engaged in physical science.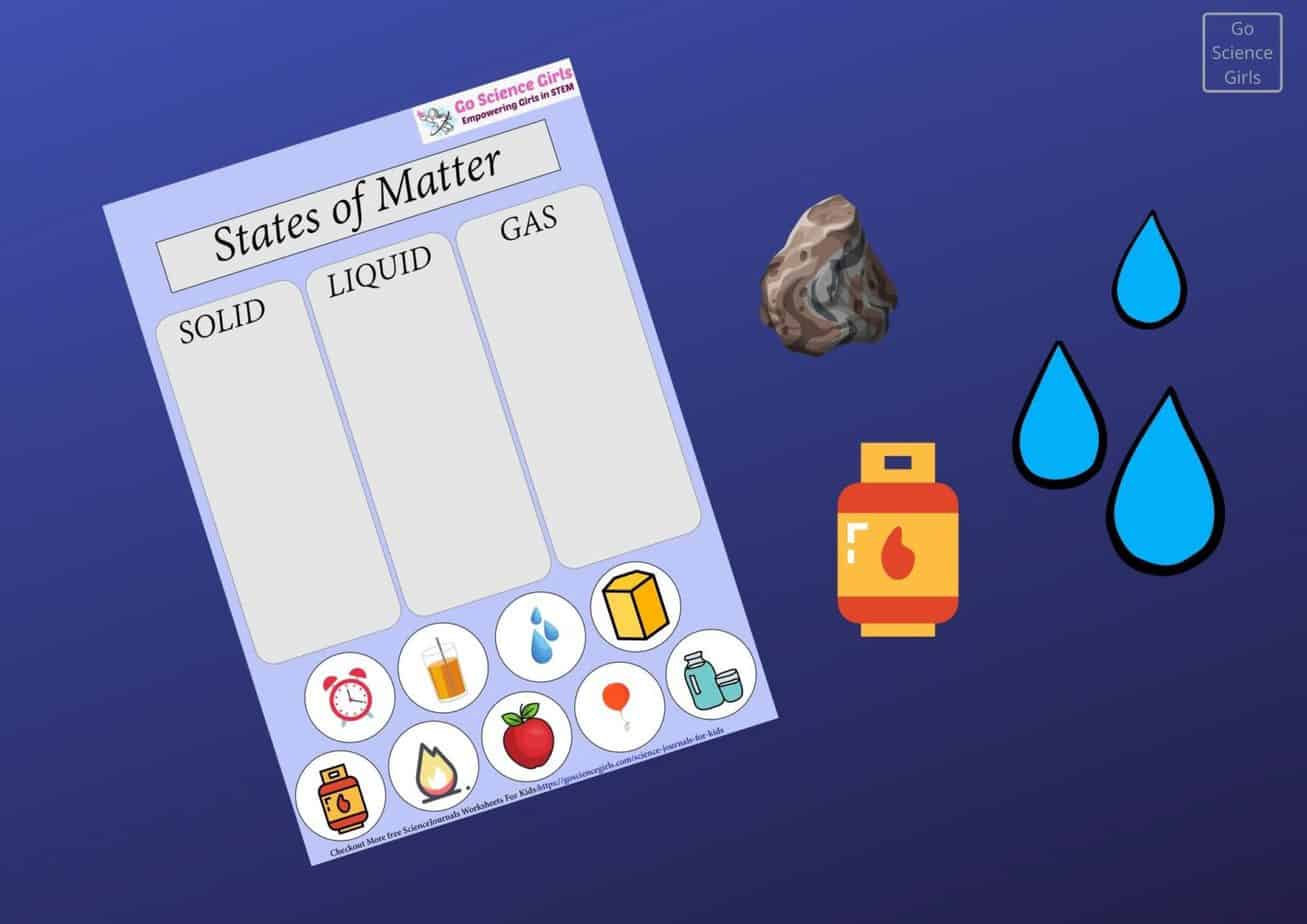 My Tree Observation Journal
Learn facts and observations about tree science by growing your tree using scientific methods. This classic journal helps to understand your child's basic knowledge about growing a tree, perfect for middle school children.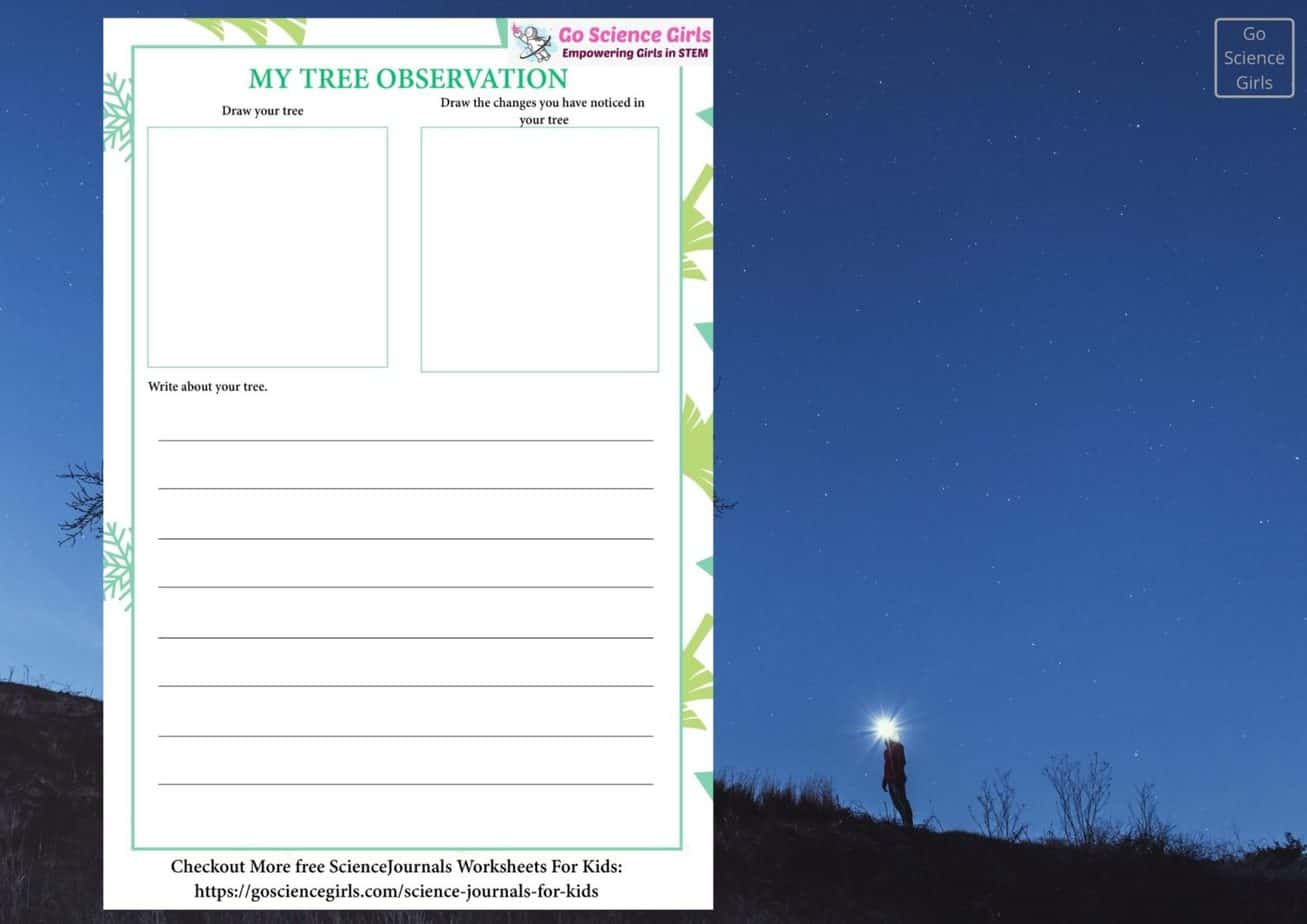 My Weather Pattern and Predictions Journal
If your child shows interest in predicting weather conditions, this journal helps him/her amazingly! They can create a record sheet and note down their predictions easily and educationally.
Let us learn the complete list of benefits that science journal offers:
How Science Journals help Children?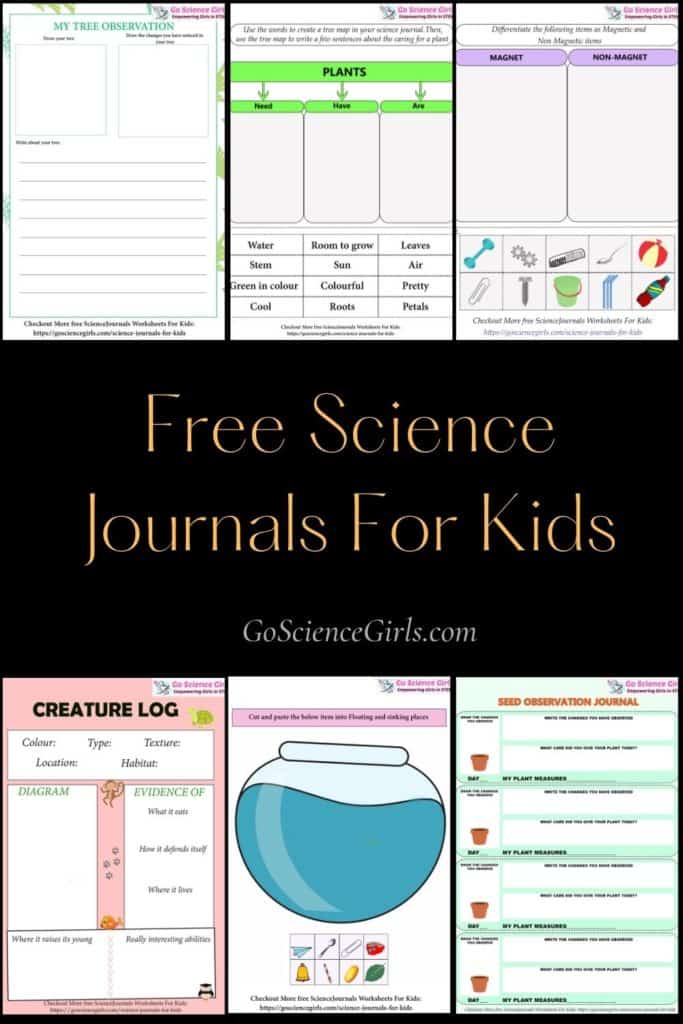 Science journals makes it easy for kids to explore and understand science concepts in different fields.
1) Easy Access to explore Scientific Discoveries
As science journals convey the analysis of scientifically researched information, children get direct and easy access to explore the old and new scientific discoveries.
2) A Support to Classroom Curriculum
Children find answers to their doubts and questions happening around them mostly in the classroom.
In this process of dealing with big questions, science journals help them to brew their feelings, doubts, and various ideas.
Besides, the habit of exploring journals either at the school or from outside resources stands as a supportive pillar to process a child's classroom learning.
3) Helps to develop Child's Writing Skills
Children do not show much interest in writing when compared to reading.
To defeat this habit, parents can introduce their children to different and simple science journals based on the child's age and understanding levels. Because science journals encourage and inspire your child to write as they get control over many science concepts.
Eventually, writing skills help them in developing their vocabulary, building appropriate sentence structures, spelling mistakes, grammar, etc.
4) Develops Communication Skills
Exploring such journals develop kid's communication skills through oral and written vocabulary.
5) Support Differential Instruction
Every science journal is unique in a way they help kids to analyze various observations, data provided, drawings, illustrations, and pictures like tables, graphs, etc.
So, exploring science journals helps them to support learning differential instructions and general organization of paper information.
Science Journals for Elementary Students
Elementary students can explore the below science journals and let us learn the nature of these journals in short:
Journal of Research in Science Teaching: This journal helps students of first to third-grade children to understand scientific research through science teaching. So, learning science is easy and effective through conceptual and technical strategies.
Rebecca's in the Dark: Here is the great science journal that helps elementary children through inquiry-based learning methods and problem-solving tactics. In addition, this journal engages students in self-directed works like recognizing educational goals and contributing to science debates.
Moving Beyond the Lone Scientist: Explore the research work of our great scientists through science stories that build scientific thinking effectively by broadening their views. The main purpose of this journal is to find out the impact of these science stories on the social nature of young learners.
Science Journals for Middle School Students
Middle school students are a little ahead in understanding science concepts in a more clear way. So, they can explore the following journals to continue their further development academically.
Science Scope from NSTA: National Science Teachers Association has offered this science journal targeting middle school children to connect their learning knowledge to real-time problems.
Cultural Studies of Science Education: Explore science education clearly in regards to the phenomenon in cross-age, cultural, and cross-disciplinary aspects. Such aspects help students to explore science and literature together and enhance their scientific knowledge.
Scientist-Image Stereotypes: This piece of information helps to regulate the core indicators among students based on their tendencies, cultures, and grades. Learning about scientists provides new approaches and opportunities to explore more scientific concepts.
Science Journals for Teens
Teens can make informed decisions and can navigate today's technological world with the scientific knowledge they gained in elementary and middle school. But still, they need to support their scientific knowledge through the below science journals for their further career development.
Journal of Chemical Education: Enhance your chemistry knowledge with the provided collaborative and interactive platform, forums, and various resources. Readers feel to look into this journal once again to find out upcoming new science content and other related resources.
The Journal of Geo-Science Education: This journal provides research information on pedagogy and earth-related scientific issues internationally. Also, teen students can get access to participate in the international research forum as part of their extension study on Geosciences.
International Journal for the Scholarship of Teaching and Learning: Teens opting for higher education must explore this forum journal where challenges related to scholarship are discussed. Because the main focus of this journal is to do aspherical research based on case studies and individual dissemination of distant educators' attitudes.