There is a lot to explore while doing a scavenger hunt apart from fun!
It offers a lot of reasons for choosing a scavenger hunt for your next outdoor event.
Adds WOWW factor to the child's boredom outdoor activities and make the regular events memorable.
They help parents and children to have some awesome together time.
Easy to customize and adjust to any subject, anywhere, anytime, and any age.
Encourages the element of competition among children
You can turn anything normal into a memorable event such as family meets, playtime with friends, car trips, rainy day events, visits to new places, etc.
Sound interesting and exciting, huh!
Guide to Organize a Best Scavenger Hunt Event
Let me help you to organize the perfect scavenger hunt.
Choose Teams
If you have only one player to play scavenger hunt, then it is fine! The player can go on his/her own to find out the hidden items and have plenty of fun.
If you have a group of players, divide them into two or more teams depending on the number. Whether the event is (maybe a birthday party or a simple day out or some other), make sure the teams are set uniformly. For example:
Do not keep all the older and more dominant children in one team. Also, avoid keeping all the young and timid children in a single team. It helps to make the best teams containing a good mix of small and big children.
In the mixed age group, small and timid children may sometimes go lazy or left behind due to loss of enthusiasm. So, assign volunteers to cheer up such kids.
Or simply, keep all the young and timid children together and give them another easier list of items.
2. Explain the Rules
Every game has a set of rules. In the same way, before arranging the kids for a scavenger hunt, you need to think and set a certain rules list for a scavenger hunt. Well, once you set the rules list, ask your teams or players to follow the same rules while playing the game. It is better to explain all the rules clearly before you hand out the list of hunting items.
Note: Once the children receive the rules and items list, we lose their attention as they concentrate on planning game strategy. So before we hand over the lists, explain to them all the ground rules mentioned here:
Set Boundaries: It is very important to set the game's boundary lines to go smooth and according to the rules. Establish and explain to the players what is the start and end line? Also, tell them the physical boundaries and time limit to finish the game?
Give a brief review on the list of things: The second most important thing to make the players clear is to understand the items clearly. If possible, the organizers can give a brief explanation about the things. Or show them the sample pictures of the things. It makes children clear about how things look.
Explain to them the guidelines on collecting the Items: Fix some guidelines on how to collect the items! For example, when the players collect the items, they can take the picture or video while gathering items and need to bring the items to the finish line.
Creating Rules: Here are a few hints to set the rules for the game to make it fun and clear while playing:
Collecting multiple items in a single place: is it ok or not?
Can the team players divide and play, or they need to stick together and play?
Need to collect items as a group?
Is it ok if the items are collected in any order or according to the list's order?
How the final items are verified: At the end of the hunt, it is time to decide the winner. So, the organizer check whether the items collected are correct and according to rules. Remove the items collected off the list and decide the winner according to the rules!!
Note: Giving weighted points to particular items may cause confusion in the little minds of children and also leads to unnecessary arguments among players.
3. Give Away the Tools
1) Make sure each team is holding the scavenger hunt list along with 3-4 pens or pencils and a clipboard.
2) Depending on the number and size of items, provide each team a bag or container to keep the items.
3) Assigning a timekeeper to each team may help players to finish the game on time.
4) Mark the items clearly if they belong to public places or a neighbor's item or your belongings so that kids won't keep them after the game.
5) It is important to stay and play calmly if the scavenger hunt is happening is around residential and business areas. Be courteous!
6) Offering prizes encourage children to do more and more creative games like this! Though the game looks like grabbing things, it teaches children about team spirit, sportive nature, winning or losing graciously, etc. So, it is a good idea to provide participation gifts to all the participants. And make sure the winner gets something special gift.
Creative Scavenger Hunt Ideas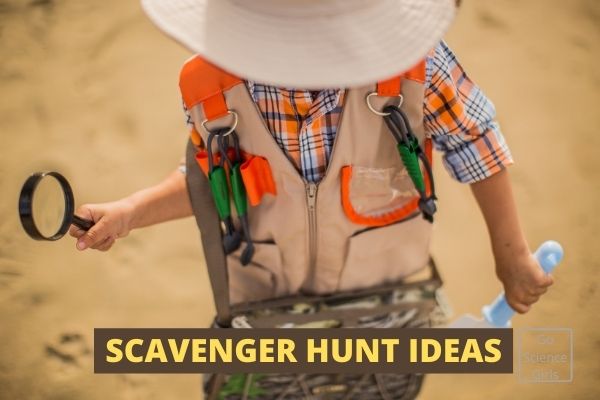 I have compiled a great list of unique and creative scavenger hunt ideas to pick !! Have a look and do the hunt along with your children and their friends. Great ideas to keep your children have blissful time during quarantine or free time. Check out the list of ideas and create your customized scavenger hunt, plus have a great learning experience.
The below-mentioned scavenger hunt ideas are characterized by the types of items listed and the type of location. Choose your theme, start hunting, and grab a ton of fun!!
Home Scavenger Hunt Ideas
Indoor Scavenger Hunt Ideas
Outdoor Scavenger Hunt Ideas
Nature Scavenger Hunt Ideas
Easter Scavenger Hunt Ideas

Halloween Scavenger Hunt Ideas
Photo Scavenger Hunt Ideas
Christmas Scavenger Hunt Ideas
Family Scavenger Hunt Ideas
Scavenger Hunt Ideas For Kids At Home

School Scavenger Hunt Ideas
Road Trip Scavenger Hunt Ideas
Scavenger Hunt Ideas For Toddlers
Fall Scavenger Hunt Ideas
Car Scavenger Hunt Ideas

Birthday Scavenger Hunt Ideas
Crazy Scavenger Hunt Ideas
Easter Egg Scavenger Hunt Ideas
Zoom Scavenger Hunt Ideas
Backyard Scavenger Hunt Ideas

Bible Scavenger Hunt Ideas
Neighborhood Scavenger Hunt Ideas
Scavenger Hunt Clues Ideas
Virtual Scavenger Hunt Ideas
Funny Indoor Scavenger Hunt Ideas Around The House
Home Scavenger Hunt Ideas
Surprise your kids with some interactive and creative home scavenger hunts to fill their free time with fun and stimulating activities. It will give them something fun to do; plus, it is such a fabulous way to get more engaged with your little stars and discover their interests.
A Story To Tell
"Go in search of lost treasure" is every child's dream! The Story Scavenger Hunt makes it possible to capture their children wisely while awakening their spirits and curiosity. With a little time and goodwill, you can organize a story scavenger hunt without any doubt. There are many stories for the purpose you can choose, such as The Pirates, Princesses, Wizards, etc. For example, here is a Story Scavenger Hunt you can explore. Check story-weaver for more such stories.
Games ideas
Embedding games in a Scavenger hunt will make it more interesting. The games that work best for organizing a treasure hunt are Labyrinths, The seven mistakes game, The Charades, The rebuses, etc. Here, we suggest some free games. So don't hesitate to dig into game trunk for inspiration!
Riddles
To spend a surprising afternoon and some quality time with your children, we suggest you organize a fun Riddles hunt at home!
It is our advice to choose some suitable and straightforward riddles for your kids. You can hide Riddles-clue-cards in the living room, in the kitchen or the bathroom, etc. You can add more cards or select just a few, to make a shorter and faster version according to the age and number of participants, which you can also divide into two teams.
Note: To avoid any unhealthy competition between kids, we suggest you assign two sets of different riddles to the teams, which will lead to the discovery of two treasures; there will be no tests to overcome, but only puzzles to solve, which will refer to objects and places in the house, with hidden cards. Good hunting and have fun !! Check out these fabulous 200 Scavenger Hunt Riddles here for your kids!
A Shape Hunt For Kindergarten Children
Engage your children and let them learn different shapes. Nothing is better than a shape hunt activity!  Make them look for shapes around them, squares, rectangles, triangles, cylinders, cubes, and diamonds, during a hunt. You can arrange this hunt with different shapes, depending on the age of the children. Moreover, according to their generations, you can also add shapes or introduce the concept of angles. Visit Preschool Shape Scavenger Hunt to learn more!
Color Hunt Activity
The color scavenger hunt aims very merely: the children will have to find an object with a given color (blue, red, green). This activity can be done quickly with one or more children! It can be integrated into any theme (pirate, princess, cowboy…) for any occasion: an afternoon of activities at home, a birthday, for colonies, at school, or while waiting for the meal to be ready!
Let's find some simple yet best Color Scavenger Hunt at i-heart-crafty-things for kids.
Emotions Scavenger Hunt
"How do you feel?" is a hunt related to children's emotions. All you need is to create cards of various feelings. For young children, draw pictures and drop them somewhere your child can reach them. Explain that the kids can use the cards to let you know how they feel at any time of the day. Log on to moss-wood-connections to explore within! Let your children feel happy and creative at home!
Indoor Scavenger Hunt Ideas
A Scavenger Hunt, an unforgettable moment for a child! The moments of such treasure hunt become golden memories for your children for sure! You can organize some indoor or outdoor scavenger hunts. But, if you want to plan an indoor Scavenger hunt for one or more children but you don't know the ideas? Well, you will get your answers here so that the kids have a good time for their future Indoor Scavenger Hunt! So, here we present some of the modern and old-fashioned indoor scavenger hunt ideas. Let's find…
Puzzle ideas
Puzzles help children improve their ability to recognize better shapes and colors and focus and improve memory, especially short-term memory. Plus, puzzles develop the strength to maintain determination and support against failure. You can get many puzzle ideas at treasure-hunt-ideas to create a puzzle scavenger hunt.
Art Hunt
Every child is an artist by birth. That is why all the children like drawing and painting very much. Art Scavenger Hunt develops the creativity and imagination of children. We are sure that any form of art develops the talent of your children. Let the art and craft increase your children's creativity. Visit kinder-art for some best art lessons and demos!
Number Hunt
Number hunt is one of the essential activities to increase your children's observation, reasoning, and memory skills. With this indoor hunt, your child will enjoy the challenge of identifying, counting, and finding different numbers. You can take a visit to math-kids-and-chaos to find some best Number Hunts for your kids.
Alphabet Bug Scavenger Hunt
Most little children have difficulty memorizing alphabets; an Alphabet Bug Scavenger Hunt can become a solution enjoyably. With this hunt, your little star can quickly learn the difference between upper and lower letters. We are sure that your child will get a kick out of this delightful bug-themed scavenger hunt! Take a look!
Reading Scavenger Hunt.
A child who reads will be an adult who thinks – Summer holidays are the most suitable time for the Reading Scavenger Hunt. This book-themed scavenger hunt can keep your children busy, active, enthusiastic and increase their knowledge too. You can develop their inner interest by giving them their favorite subjects with different genre books. Time to re-energize your little bibliophiles' summer reading by breaking out of their regular day-to-day routine. Our friendly suggestion to visit monkey-pen for some most beautiful stories for your little stars.
Princess Scavenger Hunt
Almost every little daughter has grown up with one or more Disney princesses as their idol; Princess Scavenger Hunt will give your little daughters a similar innocent joy. Let them dress up in their favorite princess-outfit – Cinderella, Rapunzel, Ariel, and all, of course. Don't wait and get started with this Princess Paper Doll Dress Up printable free of cost!
Outdoor Scavenger Hunt Ideas
Spring is approaching, the sun is coming out, and the temperatures are slowly rising; the beautiful days are coming back! It's time to take advantage of the return of the sun! Take advantage of these moments to organize an outdoor family activity with your children or a themed kids party between children. Indeed, organizing Outdoor Scavenger Hunt is great fun for your children. Let your joy be doubled by following the given Outdoor Scavenger Hunt ideas!
Outdoor Scavenger Hunt Clues
Sometimes it is more fun to organize an outdoor scavenger hunt, especially when they are over nine years old. In advance, you need to write down the clues, then distribute them so that one clue leads to another, resulting in a "treasure" at the end. If the children are old enough, they will read the clues, but you can help them with the more difficult hints and give additional clues as needed. You can surprise your children by following this classic outdoor treasure hunt at the-spruce.
Zoo Animal Scavenger Hunt
In this zoo animal scavenger hunt, kids discover the different animal species that inhabit our planet. They learn while having fun, take challenges, and find a treasure. Finally, they receive your award in animal care! Visit 123-home-school-4me to organize this zoo animal scavenger hunt during an outing with a group of some children!
Photo Scavenger Hunt
Photo Scavenger Hunt is a fantastic idea because taking photos is one of the favorite hobbies of children. This hunt not only reveals their creativity but is genuinely a boredom buster for children of all ages. This photo scavenger hunt will keep your kids cheerful for hours and will also develop a new passion. Let's discover more about this hunt; take a visit craft-aholics-anonymous.
The Cowboys Scavenger Hunt
In the fabulous universe of the cowboys of the Wild West, let your children become cowboys. Organize this theme-based hunt in a park or in your backyard to find the stolen gold or treasure. Our idea is to plan this  Cowboys Scavenger Hunt; take a look, The Rootin' Tootin' Cowboy Scavenger Hunt! Enjoy 🤠
Mall Scavenger Hunt Party
If children are bored at home, don't worry; you can plan a mall scavenger hunt by taking them to a mall with a good kids' play area, where you only need to host a funny and hilarious mall party! Know everything about this hunt by visiting the Mall Scavenger Hunt Party!
Road Trip Scavenger Hunt
Sometimes, your children need a break during long road trips from home to the destination or vice versa. Because sitting doing nothing makes them feeling bored. The road trip scavenger hunt will end their boredom. Print this road trip scavenger hunt for free and surprise your kids!
Remember, to make your road trip a fun trip, don't forget to pack your backpacks full of snacks and drinks!😋
Nature Scavenger Hunt Ideas
Nature Scavenger Hunt is one of the best group activities for children. Moreover, nature benefits your children's overall development. The nature scavenger hunt gives your children a chance to love nature.
Spring Nature Scavenger Hunt
Whether you live in a big city or a small village in s countryside, Spring Nature Scavenger Hunt can give your children a lot of fun. All you need is a printable paper sheet, and then take a walk with your kids in a park or between mother nature and organize this Spring Nature Scavenger Hunt by following some simple rules. This hunt does not give them only education but permits them to explore the new adventures surrounding them. Let your children relish this exciting  Nature Scavenger Hunt.
Camping Scavenger Hunt
Suppose you are among them who love to camp out for recreation in between wilderness. We suggest a fantastic idea for a Camping Scavenger Hunt. In this hunt, children and adults can find some easy to explore stuff in the camping surroundings. Explore more by following this Camping Scavenger Hunt. It will blow away the cobwebs!
Jungle Adventure Scavenger Hunt
If you think of a different kind of Scavenger Hunt for your little children, then Jungle Adventure Scavenger Hunt will be a real jewel to break their boredom. Send your kids on a jungle expedition to explore the Forgotten City and find the hidden treasure in a distant jungle. Here is a perfect Jungle Adventure Scavenger hunt for your little explorers!
Wilderness Nature Scavenger Hunt
If you like being in the middle of nature and already planning to enjoy a few days in the woods during a summer vacation with your family, a Wilderness Nature Scavenger Hunt would be the best option for spending some quality fun time with your little kids. This Nature Scavenger Hunt Printable can be a great gift to your family for sure!
Autumn-Winter Scavenger Hunt
Autumn-Winter Scavenger Hunt helps them discover nature in autumn, in the park, or the forest. You can download this Autumn-Winter Scavenger Hunt Printable for free to organize this hunt! You can explore more at cbc.ca/parent. Let's wander…
Easter Scavenger Hunt Ideas
Easter holidays are the time when our family gets together. So there is time to have a little fun! It's already a bit of a party for the kids, so they won't be surprised if there are even more! It is also an ideal period for awakening children to nature. Easter eggs are often hidden outdoors between 3 blades of green and damp grass. It is why I offer you some ideas for scavenger hunts for Easter.
Never forget to take at least one photo of the participants with the scavenger hunts! Hoppy Easter, friends!
Inside for the little Ones– Scavenger Hunt
The story: The Easter hen is sad and has prepared a treasure for the children who will bring her the eggs she lost. You can discover more to prepare for this hunt by visiting bible-games-central.
Easter Seasonal Hunting
Time to bring out Easter baskets or Christmas socks? Give clues to your children where they are looking for them. As children get older, put them in places that are hard to find. You can explore more free printables of Easter Baskets Scavenger Hunts for kids of all ages.
Easter Puzzle Scavenger Hunt
Attach a puzzle piece to each item in your child's search list. And when they have all the puzzle pieces, they will search for a secret place on the back to find a treasure (which you may have already written). In this way, the fun is not just finding items on the list. It will generate more interest in children. Here, you can get an idea of an Easter Puzzle Egg Hunt! Have fun with Easter!
Easter Theme Hunting
Do your children love pirates? Ask them to dress up to find items. Or, if they go to the beach, they may find stuff like seashells and seaweed. Themed scavenger hunt can also be a way to train your children. If they like to bake, they may love looking for spices and measuring cups in the kitchen cabinets to prepare the delicious chocolate cake ingredients. Friends, explore here an amazing Jax Beach Easter Scavenger Hunt. Have a blessed Easter!
Exercise Eggs – Find & Move Scavenger Hunt
It is perfect for the cold months when children cannot play outside much. To organize this sporty indoor hunt, combine each object with a game challenge. For example, if little John gets a tennis ball (which is on their list), he should read the note associated with the ball, saying "10 jumps with both feet". Before moving on to the next stuff, he must perform his ten-jumps. You can take a look at this lovely Exercise Scavenger Hunt to prepare for your kids!
Halloween Scavenger Hunt Ideas
Friends, we are here again; and we have done everything to present you with fun and amusing treasure hunts. It is to allow you to organize a Halloween scavenger hunt with great joy in minimum time. Let's go for the little Halloween adventure to do with your children. Here's a quick and easy Halloween scavenger hunt to play with your kids of all ages. Discover them, print out the printables, and start playing now; great for a small group of kids; all you have to do is follow our ideas!
Halloween Village Treasure Hunt
In this treasure hunt, you need to lend a hand to the Halloween village children, helping them find all the Halloween treats stolen by the Howling Woods' terrible Witch! You can download free Halloween scavenger hunt printables to speed up your preparations! Happy Halloween, friends!
The Halloween Clue
"The Halloween Clue" is an easy scavenger hunt to play with one child or more on the Halloween candy hunt theme. Here you can find some best Halloween Printables for free. As a bonus: small additional group games to make the fun last !! We wish you a spooktacular Halloween!
Murder Mystery Scavenger Hunt
This Scavenger Hunt is an all-inclusive murder mystery hunt where the goal is to solve the case. You can download this printable free of cost. And you can explore more to learn everything at print-play-party-games. We hope you don't have any scare in the world this Halloween!
Zombie Scavenger Hunt
Mates, organizing a Zombie Scavenger Hunt, is entertaining to play that comes in an entertaining form and can be played with two players and many more on the living dead theme. You can dig more Halloween theme party ideas at .queen-of-theme-party-games to keep the fun going and hunter's diplomas! Scary-Happy Howl-a'days!
Spooky Halloween hunts!
This scavenger hunt can be tricky for kids under the nine age group, but it's perfect for groups, older kids, tweens, teens, and even adults. You can also do it all together, young and old, at a Halloween party or a family reunion; for example, the laughs are guaranteed! You can plan it better by visiting prepared-not-cared! Our best wishes for a haunting All Hallows Eve, guys!
Beach Scavenger Hunt Ideas
During a summer vacation or at a beach holidays-party or a short trip to the seasides with friends or family, the classic Beach Scavenger Hunt offers the right moment of joy to be shared without moderation and suitable for children of all ages; it can entertain adults too. To organize a memorable hunt, we offer some famous beach Scavenger Hunt ideas along with printables and references! We know the real interest lies in the hunt more than in the treasure; let's begin the trip, mates!
Beach Scavenger Hunt
Are you planning to spend a summer vacation on a tropical island with your family? It would be a fantastic idea! You can double your children's joy by arranging a Beach Scavenger Hunt on the beachside. Here, you can print this free printable of a Beach treasure hunt to organize an outdoor treasure hunt for your children. Happy Beach time, friends!
Mermaids-themed Scavenger Hunt
Embark on a magical adventure and dive into the heart of the ocean with a Mermaids-themed scavenger hunt. You can arrange this hunt near the beach, where your toddler needs to find the Pearl of the Ocean and the queen's magic necklace. You can explore more to find ready-to-print at treasure-hunt-4kids; the mermaid sisters are waiting for you to help them! Let's have fun, kids!
Seaside Exploration Walk Scavenger Hunt
Walking on a seashore with your loved ones is truly a great thought! Moreover, while walking, you can also plan a Seaside Exploration Walk Scavenger Hunt with your little stars! All you need is little preparation and observation while walking. We suggest you visit the-moments-at-home for planning your beach scavenger hunt! Have fun, explorers! 😎
Ocean Creatures Memory Scavenger Hunt
Do you enjoy printable games? Here we share some simple fun for your kids; play an Ocean Creatures Memory Scavenger Hunt with your toddler or preschooler! Start with just a few peers and work up to some advanced levels. Take a visit to simple-fun-for-kids for planning this hunt and make your kids smarter!
Color Scavenger Hunt
The colors-filling task is one of the favorite activities of children. During your summer holidays on the seasides, you can keep engaging your little kids with this fun task called Color Scavenger Hunt. We suggest you take a visit to natural-beach-living for an effortless color scavenger hunt for preschoolers and toddlers. Let your children love exploring their surroundings and match the colors through their crayons!
Photo Scavenger Hunt Ideas
Have you ever thought of a photo scavenger hunt before? Indeed, it will be a hit! It is always a fun activity to do outdoors or indoors for children. There is no constraint; even the weather will not prevent the children from searching for the pictures to capture. In most photo scavenger hunts, children will have to capture photos of a predefined theme and tasks. Notably, the variation of the game works well when you have a lot of time to play.
Photo-Clues Scavenger Hunts
We have seen that a classic scavenger hunt requires much time for specific preparations; Fortunately, we can organize a digital photo scavenger hunt, and your cell phone or a camera will become your ally. Instead of writing down the various indications and other puzzles on paper, we will use these devices to capture a visual clue with a photo that children will have to look for. In this way, you will see that it is possible to organize a treasure hunt anywhere quickly. Take a visit to photo scavenger clues printable for your future hunt; good fun, and happy hunting, friends!
Selfie Scavenger Hunts
Are you looking for a summer-fun-activities for your Kids? Selfie Scavenger Hunt is a delightful idea to give a treat to your kids; Here are ready-to-use Photo-Scavenger-Hunt-Clues. You can print them and get your kids active and creative through some theme-based selfies! Not only for kids but a great Boredom Buster for all ages.
Sorting Photos Scavenger Hunt
This Photo Scavenger Hunt is very popular; both young and old love it. The participants receive several photos that are mixed up and a route. The aim is for the participants to return the pictures to the finish line in the correct order. You can use different flashcards, or you can go with certain kinds of categories. The 123-home-school-4me will guide you in planning this hunt. We wish to have a whale of a time, guys!
Bike Photo Scavenger Hunt
Bike Photo Scavenger Hunt is a fabulous idea for cycling fun with family: organize a great bike photo hunt! Younger people can make this safe bike trip in a safari or a local park or safe neighborhood, and older ones can do it in town. Children ride bikes around nature and take photos of different objects found on a list. You can take a visit to family-education and discover more about it. Happy Biking!
Picture Scavenger Hunt In A Box
It is an outdoor fall season scavenger hunt. Go to nature public park, arrange this hunt there by using a shoebox. First of all, tape fall season printable pictures inside the box. Describe each photo to children lying inside the box, ask kids to collect similar nature items from the garden, and then put them in the box. Let them complete the list. To make it more delightful, you can give individual boxes to each child so that they will take it as a healthy competition. We are sure this picture hunt will provide much joy to your children! You can explore more at teaching-mama. Have fun, mates!
Autumn Photo Challenges Scavenger Hunts
Offer your children a fall picture scavenger hunt. Children take great pleasure in exploring the nature surrounding them to find and tick off the list's treasures one by one. Download or print this free printable to begin and organize your hunt. Let your kids search for the little gems of nature!
Christmas Scavenger Hunt Ideas
Every year, we organize the same Christmas party, and it can get pretty dull repeatedly: novelty is good too! It's the season of fun, joy, family, and friends! So take out the games and puzzles because it's time to find out how to organize a Christmas scavenger hunt. If you're hoping to add an exciting playful touch to this year's end-of-Christmas celebration, try these ideas for planning a Christmas scavenger hunt for kids and adults alike.
Christmas Photo Scavenger Hunt
Friends, December is near, and Christmas Photo Scavenger Hunt is a great way to limit your use of items during the Christmas eve celebration. Especially if you plan to include a few tricky things to obtain or transport, instead of collecting items in your play area (or in your city or neighborhood), all they need to do is snap photos with your camera or smartphone. This printable will save your preparation for the hunt! Enjoy festivities!
Making Snow-Man Scavenger Hunt
Guys, creating a snowman for a scavenger hunt will be a crazy idea for this Christmas. You need to give your players instructions to make a specific snowman in front of them, which they will have to take a picture of themselves for this challenge. You can provide them the items they require or ask them to hunt for them. For example, you can ask them in the instructions: Build a snowman at least 1.50m tall; it should have buttons for the eyes, an ice cream cone for the nose, elements, and two wooden arms. Take a photo next to your snowman to prove his height! Visit snowman-scavenger-hunt to follow some footprints. Have a snowy Christmas! 😋
Nativity Scavenger Hunt
We have all seen the manger scene before: three kings, a bunch of animals, Mary and Joseph, and of course, the newborn Jesus in his manger. Yes, it's the Nativity! It is effortless to recreate a memory nursery. To add some joy to your Christmas scavenger hunt, you can have your participants recreate the scene. Recreate the nursery with all of your team members: one person to represent each character and the rest to play animals or other scene elements – like the angel or the star! Each member of the team should participate. There will be bonus points for teams that use costumes! You can explore more at noti-me-for-flashcards. 
Cookies Scavenger Hunt
Make cookies! Cookies can be a lot of fun to make; the process can be pretty short and easy. To take advantage of this fact, you can create a cookie-making scavenger hunt where players will attempt to recreate an already presented cookie. All you need is to recreate the cookies presented in front of you with the available tools and ingredients. Remember, it's as exact as possible! You must have three cookies to obtain to the finish line to be declared a prizewinner! Best of luck!😋
Christmas Puzzle Scavenger Hunt
The best way to make your Christmas treasure hunt more difficult is to use puzzles that your players will have to decode to determine what to collect or take a picture. Here are some scavenger hunt puzzles you can use for your find or snap list: Christmas-treasure-hunt-clues/puzzles. Have a blissful Christmas!
Family Scavenger Hunt Ideas
A family scavenger hunt is a perfect activity for all seasons. You can organize them as per your mood and plan, outdoor or indoor. Moreover, the creative possibilities for you are boundless, problem-solving, and teamwork skills. You can involve engaging children of all ages. Family activities don't have to be expensive, and a family scavenger hunt is one that you can do inexpensively but creates fantastic family memories—a way to bring generations together and build bonds! Here are some ideas for creating and hosting the perfect and fun family scavenger hunt for everyone! Have a great family time, fellows!
Family-Neighborhood Scavenger Hunt
This family scavenger hunt can be a great way to get to know your neighbors better. Create 2 or 3 teams depending on the size of your family: each team must go door to door, tell the inhabitants of the house that they are doing a treasure hunt, and ask them for an item or item on their list (i.e., it's up to you to create this list). Just make sure that teams don't knock on the same houses' doors over and over or they could be poorly received. Here, we suggest you take a look at this Scavenger-Hunts-For-Family to plan your hunt.
Family Reunion Photo Scavenger Hunt
Are you planning a treasure hunt during your family reunion occasion? Why not organize this photo scavenger hunt where teams have to take photos of different items on a list. The list may include taking these kinds of pictures: all team members in a bathtub, one team member on the swing, the whole team standing next to a beautiful motorcycle, etc., and the entire team standing next to a convertible. Find out this list of fun family reunion activities and hunts for all ages, our suggestions!
Mother Nature Family Scavenger Hunt
Go to a large park with your family, make 2 or 3 teams, and plan a list of items for each team to collect. The items can be an acorn, bird feather, red flower, discarded drink cup, yellow leaf, etc. You can get ready-to-print printable by visiting this nature-scavenger-hunt. Happy nature hunting!
Downtown Scavenger Hunt
If your town's downtown is safe, you can organize an afternoon scavenger hunt there. Teams will need to bring back the items from the list you create, such as a napkin with a local restaurant's logo, a program from the summer activities center, a business card from a downtown business, and a stamp. It's a family scavenger hunt that generates plenty of stories to share about how teams requested and found the items on their list. It requires integrating other people outside the family (such as city hall employees or local businesses). Still, the participants will get a good experience and learn to talk to people they don't already know. Look at this fun historic downtown scavenger hunt. Create yours!
Escape Game Scavenger Hunt
Escape Games for children and adults to do at home. A friendly moment to do with family or friends. Original DIY idea for mom and dad! An hour of intense play for you full of family! Take a look at this Escape Room Style Easter Scavenger Hunt for arrangements. A happy family day to you and your near and dear loved ones!
Scavenger Hunt Ideas For Kids At Home
An unforgettable moment for a child, a Scavenger Hunt! To find the treasure and go on an adventure gives immense joy if you were a child. Do you remember it? Do you want to create and organize a scavenger hunt for your children at home, but you don't know how? And looking for the best scavenger hunts? Well, you will find your answers here so that the children have a joyful time for their future scavenger hunts! Scavenger hunts always make children dream so much! And we understand why! To help you, here are some scavenger hunt ideas for children at home!
Backing Old-fashioned Clay Coins Scavenger Hunt
Children always need old coins to fuel their games. Whether for a treasure hunt, to play pirates of the Caribbean, or create the King's treasure, your child will find a thousand and one reasons to use his old currency! Create a classic scavenger of creating old coins for children's games. It is a modeling activity for children. Learn and organize How to Make Classic Clay Coins! Let your child make their unique coin from clay during this scavenger hunt.
Detective Scavenger Hunt
Children love Investigation Scavenger Hunt. Kids will immerse themselves in the role of real detectives. Ask your children to walk around the place and try to find everything as per the list. Let them create a book of the investigation files! Simple to organize at home. Explore this printable Detective Scavenger Hunt, which is combined with some puzzles and challenges to take your children's group on a real investigation in the little ages. Best luck!
Christmas Flashlight Scavenger Hunt
Get into the Christmas spirit with this fun, low-prep scavenger hunt with a flashlight! Kids would love it during the winter days while staying at home. Begin this hunt by hiding the items you have available in the children's room or a room of your choice. Now turn off the lights and tell the children to find Christmas (or other) figurines using only their flashlight. No different light should be on. Let them search for a while alone for the Christmas figurines you have hidden. Give clues, and if they cannot find everything, you can help them. Once they have found all the items, they can exchange them for a treasure to share. Look at this Christmas-flashlight-scavenger-hunt to plan yours! Have fun and enjoy it!
Treasure Ideas For A Scavenger Hunt
Here are some best ideas to organize children scavenger hunts; Let us explain; we have prepared some scavenger hunts ideas for your kids at home:
Easter eggs
board game night
Christmas gift
birthday present
a snack with friends
a picnic anywhere they want
an extra hour of playing video games
play the game of their choice with the parents
make waffles to taste it
a meal to cook with the family
it is for them who decide on the evening TV program
pancakes party
Make a tent in the home and sleep in it
School Scavenger Hunt Ideas
We use the power of treasure hunts to help children develop personally and learn new things. A Scavenger Hunt for children is more than an easy activity; it is a simple educational term to find out and nourish their inner qualities and hobbies. Creating a scavenger hunt means allowing your children to explore problems, solve them, and train themselves to build a neural system conducive to problem-solving and searching for solutions. Our scavenger hunt ideas give you our best tips for organizing an easy scavenger hunt for your school-going kids. Let your children learn through play!
Nature Scavenger Hunt
During the school holidays, it is often the opportunity for children to go out in between nature, just like an open park, garden, countryside, or a forest trip with the family! It's a good time for them to connect with mother nature and discover or rediscover the much-hidden treasure of nature!. Find here a fantastic idea for organizing a Nature Scavenger Hunt with Free Printable for your kids!
Children Neighborhood Scavenger Hunt
First of all, print out this free Outdoor-Scavenger-Hunt-Printable before you take a walk around your neighborhood. Now, instruct your kids to pack their pens, pencils, and markers in their bags also some snacks. Invite your children to spot an "X" over the box each time they discover one of the list items. You can either work as a team or give each kid an individual copy for a little healthy competition as a game.
Road Trip Scavenger Hunt Ideas
Were you looking to enhance the school road trip of your children? What do you think? Occupy them in the car or bus during the rides. So, before they go for a trip, print the printable so that your children can do this little scavenger hunt that should keep them engaged for a while! 🙂
Ancient Egypt Theme Scavenger Hunt
Don't you have an idea for an ancient Egypt-themed children's birthday party? Organize a Pharaonic scavenger hunt with your children and their friends in search of a missing tomb. You are at the head of agents specializing in the search for missing treasures. You can prepare Cleopatra-Egyptian-themed-birthday-party for your little girls too! Let children have fun!
Football Scavenger Hunt
Are your children football fans and dream of becoming professional players admired around the world? This adventure is made for them! Organize a Football scavenger hunt by visiting organized31. Let your children create their tournament and will even form a team!
Scavenger Hunt Ideas For Toddlers
Discover a world where anything is possible: walk on clouds, talk with animals, live in flowers! Through a scavenger hunt specially adapted for toddlers. We are here to share our thoughts and tips on how to prepare it without taking your head. Let your little ones enjoy and have fun with our Scavenger Hunt Ideas for toddlers!
Nursery Christmas Scavenger Hunt
Here is a simple idea to organize a nursery Christmas scavenger hunt. The hunt will aim to find the reindeer of Santa Claus. It is a perfect game for preschool kids because there is no reading involved, and it is easy to play. Still, in the advanced version, you can add the difficulty according to your reindeer's hiding places and make teams for a more competitive scavenger hunt! You can discover more nursery children scavenger hunts by visiting the-many-little-joys. Enjoy!!
Dinosaur Scavenger Hunt for Toddlers
Are your children real little adventurers passionate about Jurassic? Their biggest dream would be to dig into uncharted lands, in the footsteps of dinosaurs? Do you want to organize an original activity with the family? Discover this dinosaur treasure hunt! Your kids will be entrusted with an extraordinary experience: on a mysterious island, a jungle full of surprises!
Car Trip Scavenger Hunt For Toddler
Do you want to keep your toddler feel comfortable, happy, and active during a road trip? Here we suggest a road trip scavenger hunt to organize a scavenger hunt during a ride. All you need is to visit this the-house-of-hood-blog to prepare your hunt for your little ones! Have a fun journey!!
Zoo Scavenger Hunt For Toddler
Scavenger hunt for little ones (4 to 6-year-olds): they all go together searching for zoo animals. In the end, every child is rewarded with a zookeeper diploma honor! You can print out this Zoo-Scavenger-Hunt-Printable for free to plan this hunt! Have fun with your little stars!
Aladdin Themed Fun Night Activities-Scavenger Hunt
Are your children fascinated by fairy tales, magic, beautiful lamps, and flying carpet stories? Planning to create a scavenger hunt for your little ones? Discover Aladdin Disney Fun Night Scavenger Hunt! Get ready to celebrate family time with these super Aladdin fun activities for kids!
Unicorn Scavenger Hunt For Toddlers
Do your children dream of unicorns and enchanted creatures? Do you want to plan a scavenger hunt for your toddlers? This hunt requires that the kids discover objects related to unicorns. Explore some best unicorn scavenger hunts with free printable on growing-play. Let your kids be kids and relish every moment they spend!
Fall Scavenger Hunt Ideas
The fall scavenger hunt is an excellent classic of outdoor fun. It is a search for natural elements, and we engage our children casually in a real exploration of their corner of nature. In the version of the children's fall scavenger hunt, the purpose is to be on the lookout for small treasures of nature that can be found in the park or the forest, of course, with enjoyment! We will share the theme of autumn with our Fall scavenger hunt ideas, which are prepared for you and your family, along with external links for various activities/games.
Fall Scavenger Hunt
Are you looking for a fall scavenger hunt for your children? Discover this autumn scavenger hunt—a perfect fall activity with free Printable to play and learn to recognize fall treasures. Happy Fall!
Fall Treasure Map Hunt
What could be better than a print and hide game to celebrate the start of fall together? Fall treasure maps with cute illustrations and botanical names for fun learning. You can explore and save a ready-to-print Fall-Treasure-Hunt-Map. Good Luck, friends!
Fall Party Scavenger Hunt
The weather is getting cooler, the clouds are coming, but the leaves are turning red, the nuts are starting to fall, and we are once again tasting the very juicy and fragrant apples. This time no more doubts, autumn has arrived! Let's plan a scavenger hunt by exploring some fun and creative fall party ideas on the play-party-plan. Have a fruitful fall! 
Fall Cards Scavenger Hunt
Let your children create some pretty watercolor illustration cards by observing free illustration banks over the internet, and then you need to make a deck of cards to hide in the park or the house. Or if you have the "natural" versions of the cards, it's even better: your chestnuts, chestnuts, and hazelnuts! Children can play indoors, at school, at the recreation center: just cut out the cards, hide them, and go looking for them. You can also explore some autumn elements to create your cards! Artful wishes!
Fall Leaves Scavenger Hunt
Autumn is a season in which nature is in its beauty. And especially during this fall time, you will find dry, colorful leaves everywhere. Kids love crafts, and with the help of these leaves, you can organize a Fall scavenger hunt. Just collect many leaves and give them to a group of little children and ask them to make animals using those leaves! Here you can find an instance. Give rewards to each child at the end of the hunt! The kids will have a lot of joy, for sure!
Car Scavenger Hunt Ideas
Car scavenger hunts are a great activity for keeping kids busy on long vacation trips. During the long journey, they feel tired and bored too. To keep them active, creative, and occupied, treasure hunts are the best ways to make the journey enjoyable for both kids and parents. We have shared a bunch of ideas for you to prepare for a hunt.
Car Trip Scavenger Hunt
In summer, car trips can be (very) long for children and their parents! How to occupy the children in the Car? A question that often comes up with parents! It is why, today, we offer you a little scavenger hunt to occupy your kids during a trip. You can explore this printable-road-trip-scavenger-hunt for kids! Moments of joy are guaranteed! 
Car Travel Scavenger Hunt To Keep The Kids Occupied
It's almost the next vacation, and long car trips are coming! Today we bring you a car trip scavenger hunt to keep the kids busy on the road. It's a simple and fun travel game to keep kids busy on the road. The goal is to find over the kilometers the elements present on the sheet to be printed. Once one of the items has been spotted through the window or during a break in a rest area, children should check the box next to the spotted object. Here are some Printable-pages for this activity for your children before leaving.
Around The Town Car Scavenger Hunt
Are you feeling bored at home? Want to go outside with your kids but do not know how to occupy them in the Car? We have a joyful way for you to get out of the home and bypass your boredom! An-Around-The-Town-Scavenger-Hunt by Car is the answer to your question! Let's plan an adventure trip!
Road Trip Scavenger Hunt
Have you planned to spend a long holiday with your family somewhere very far by driving your Car? If the answer is yes, it would be best to explore these Road-Trip-Scavenger-Hunts-Printable because this scavenger hunt will keep your kids happy and busy during a long car trip for sure! Have a safe journey!
Travel Scavenger Hunt
We love road trips, and it gives so much joy to us when the family is together! Sometimes, our long trips become a headache for our children because they get bored during a long journey in our cars! So, we have something special for your children; Travel Scavenger Hunt, ready to recreate as soon as you reach the roadway. The kids will be attentive to the road, calm and concentrated, ideal for a successful holiday trip!!
Birthday Scavenger Hunt Ideas
A scavenger hunt is a perfect game for a children's birthday party. Why? Lots of exercise in the fresh air, exciting tasks, tricky puzzles, team spirit, and, in the end, a treasure. Do you need more? Plus: A scavenger hunt is 100% flexible and can be organized for boys and girls alike. You can find out how to do this, what useful tips and tricks there are for a children's birthday scavenger hunt. Here, you can find some best scavenger activities tasks for the kids. Let children relish every moment!
Indoor Birthday Scavenger Hunt
You can invite the guests to your home and unpack the birthday party with gifts and start eating cake. Then you can "randomly" find the start card and read the story aloud. Or you tell the children that you have received a letter with a secret assignment. Now the children have to go out to complete the task or to solve the case. Either the scavenger hunt begins on-site in the house or the neighborhood! You can explore more by visiting sambel-stories to organize a Birthday scavenger hunt for your child! 
Outdoor Birthday Scavenger Hunt
You can organize the scavenger hunt as an event with a picnic in a forest or park. Think about a meeting point (e.g., a hiking car park) where the guests should be brought by their parents and picked up again later. The gifts can initially be kept in the Car. Get ready to plan this outdoor birthday scavenger hunt and bring a backpack with drinks, sweets, snacks, and a picnic blanket. You can get an idea from this A Play Outside Party. Have a rocking birthday, guys!
Forest Birthday Scavenger Hunt
A forest is undoubtedly one of the most exciting places for an exciting scavenger hunt. There are many places to hide. Also, the route can be made exciting. Lay the trail, for example, over a stream, over fallen trees, or narrow paths. You can hide the puzzles in tree holes, between roots, in forks, under branches, or between stones. Ensure that the hiding places are not too far from the main path and that no animals are disturbed. You can organize a picnic birthday party in a safe forest side with your family and group of friends. You can also print ready-to-print Forest-Scavenger-Hunt-Printable for free! Have a blast of a day!
Garden Birthday Scavenger Hunt
Your garden is usually adventure enough, especially for very young children. The supervision of the children is stress-free, and indeed, nobody gets lost that quickly. A subsequent cake dinner and unwrapping presents are easy to organize. Here are some best Garden-Scavenger-Hunt-ideas for planning your hunt for your child! Let our kids love nature!
Neighborhood Birthday Scavenger Hunt
The neighborhood is undoubtedly suitable for a birthday party scavenger hunt. You can attach the tasks to lanterns, behind traffic signs, or on fences. If neighbors are informed, you can also use hiding spots such as floor mats, birdhouses, or front gardens. You can print out these Fun-Neighbourhood-Scavenger-Hunt-Printable for free! I wish you loads of fun and great times ahead!
Crazy Scavenger Hunt Ideas
It's not just kids who can enjoy a scavenger hunt; with a well-chosen theme and appropriate puzzles, adults can enjoy it too! If you want to start or organize a crazy scavenger hunt for your family and friends, you will need a few ideas. These scavenger hunt ideas will help you plan great fun and keep your loved ones happy! Be sure to keep safety in mind when planning a hunt.
Crazy Scavenger Hunt
It is natural to be bored while being at home only during the Corona epidemic lockdown time. However, you can turn this difficult time into a fun time by organizing a joyful scavenger hunt. We offer you to explore these Crazy-Scavenger-Hunt-Ideas to spend your time with your family with fun and pleasure unlimited. Enjoy and be safe, friends.
Camping Scavenger Hunt
Love camping? Planning to take your whole family with you to camp somewhere in between mother nature? Then don't forget to plan a camping scavenger hunt. You can print out these fabulous Camping-Scavenger-Hunts-Printable, which will give you plenty of fun. Have a look and enjoy some crazy time with your loved ones!
What's Your Name? A Fitness Fun Scavenger Hunt
Staying fit and healthy is an essential part of life. From childhood, children should understand the importance of health. Physical workouts are necessary for overall fitness। However, after beginning, the exercise session letter becomes boring. That is why, today, we are sharing a Fitness with a fun scavenger hunt; with the help, you can turn a fitness workout into a joyful activity. Your toddlers will be eager to try it. Plan this fitness pro scavenger hunt What' s-Your-Name? Stay Strong and Healthy!
Fun Activities Scavenger Hunt
Looking for simple ways to add joy to your life? But don't know? No worries, we are here for you! We have thought! Here are some crazy scavenger hunts which will give you and your family good entertainment, joy, and big smiles on your face. Members of all ages can join it. You can prepare for these hunts by visiting fun-activities-to-do-at-home. Happy level-up day!
Funny Scavenger Hunt
Finding the best scavenger hunt with tasks makes the participants laugh enough and give some great fun memories? We've therefore suggested a crazy scavenger hunt list that all ages people will love. Perfect for a fun youth group activity. Take a visit to this funny-scavenger-hunt-list. 
Easter Egg Scavenger Hunt Ideas
In a few days, hundreds of children across the state will be venturing, basket under their arms, on a hunt that is as chocolatey as it is fun. We have thought of you, and we offer you some Easter Egg Scavenger Hunt Ideas to ensure the success of this great morning! Happy Easter!
Easter Egg Treasure Hunt
Whether it's the Easter bunny, the hen, your children will expect little egg-shaped surprises when they wake up. You can place mini chocolate or sugar eggs near their bed for the little ones and make an egg path all over the house. But this path leads somewhere! It sometimes stops at a cupboard, where it ends with an ultimate Easter gift. You can visit Easter-Treasure-Hunt-Ideas for loads of free scavenger hunts printable, activity ideas, party ideas, and more!
Riddles Scavenger Hunt
You can buy empty plastic eggs from stores, where you will hide the guesswork. Some of them can also contain small jewels, coins, or gummies. Riddles will lead your kids to specific places around the house. You can help the little ones read the messages where you can have hidden a little Easter surprise. The first riddle will lead to the second, then to the third, and so on. Visit clutter-bug. For planning your hunt! 
Easter Egg Challenges
If you prefer challenges, it's also great fun; you can insert in each plastic egg, instead of the puzzles, little challenges that your children will have to meet to be entitled to their surprise. For example: "Imitate Grandpa's voice," "Mime daddy's biggest flaw," "Play the frog," "Give your brother a hug"… Ideas are also many! You can also explore more and print out this ready Printable. Fun guaranteed!
Easter Egg Puzzles
Is your child allergic to milk? Do you like the idea of ​​less chocolate this Easter? Instead of it, you can hide puzzle pieces in the easter-eggs and place them all over the house. It can be an Easter-themed puzzle. You can also create puzzles by yourself that contain a message of tenderness. For example: "Happy Easter, my sweet coco …Have fun, my little chick…" You can print out Editable-Easter-Egg-Scavenger-Hunt-Printable to plan your hunt! Let your kids enjoy Easter surrounded by plenty of wonders!
The Easter Egg Race
Whether there is a scavenger hunt or not, the easter egg race will give some crazy fun to your children that you will never forget. Remember, you have to put a lot of heart and love into it! You can organize an egg race by visiting simple-play-ideas. Have a wonderful Easter!
Zoom Scavenger Hunt Ideas
The Zoom Scavenger Hunt is an energizing and virtual network activity with fun that helps groups recreate the scavenger hunt experience in a fully online environment! The virtual treasure hunt's goal is to bring together a team around a common goal, use their creativity and their problem-solving skills while having fun! It can be photo challenges, video challenges, quiz questions, finding surprising places in the world, solving puzzles, and completing various team challenges. Mates, here we have prepared for you some best Zoom Scavenger Hunt Ideas. Enjoy!
Zoom Scavenger Hunt
Have fun with your kids, family, and friends while doing a zoom scavenger hunt. Explore more at teachers-mag. 
Virtual Scavenger Hunt
A virtual scavenger hunt is indeed a crazy way to celebrate quality time with your dear and near ones virtually. All you need is to print out this free Printable-Scavenger-Hunt. Stay connected with your dear ones with a little more fun!
Video Chat Scavenger Hunt
Thank goodness for technology! A video chat scavenger hunt is a solution to stay connected and have fun with your family and friends even when apart. Play it with your special ones, and you can also print out this Printable to plan your hunt. Wishes!
Zoom Scavenger Hunt For Toddlers
Talking with preschool toddlers over Zoom can be a fun, exciting activity focused on searching assorted items in each child's place. You will love this Zoom-Scavenger-Hunt for sure! Relish your zoom time!
Classmate Zoom Scavenger Hunt
Schools are still not opened, and students are doing all their educational activities only at home due to this Corona epidemic. To keep the children stay active and feel connected with their classmates, Zoom Scavenger Hunt is an excellent activity for educational purposes too. Visit parent-square to host a Virtual Scavenger hunt. Best Luck!
Backyard Scavenger Hunt Ideas
Playing with your children is always to have fun and have a good time! We agree, with school, homework, TV… they are already quite busy enough like that, and their only desire is to laugh and decompress! But if you can have fun teaching them lots of things, that's even better. Backyard scavenger hunting is fun and educational at the same time! Here, we have shared some fantastic Backyard Scavenger Hunt ideas to plan your scavenger hunt party or group activities without going somewhere! Take a look!
Backyard Scavenger Hunt
Are you looking to host an outdoor children-party? A Backyard Scavenger Hunt is a fabulous idea to entertain your kids and even adults with great fun. Children will love it. You can print this ready-to-print Printable to organize your hunt. Party hard, mates!
Sensory Garden Scavenger Hunt
On a bright sunny day, organizing an outdoor scavenger hunt in your backyard garden will be a fantastic way to surprise your children. Kids enjoy observing and feeling the beauty of nature. Sensory Garden Scavenger Hunt is a perfect activity for the purpose. You can visit attachment-mummy for planning your special hunt. Spring your day!
Backyard Treasure Hunt Picture Clues
Organize a treasure hunt in your backyard. Hide picture clues everywhere, in the shed, under the fir tree branches, or under the snow, protected in a small plastic bag. No matter how big your yard is, make sure your kids wander from the front to the back of the house so they burn off their energy. You can explore more about it on backyard-treasure-hunt-with-picture-clues. Happy hunting!
Fall Scavenger Hunt
Enjoy a backyard scavenger hunt, so we are bringing you the fall version for this winter season. If you have a small garden in the backyard, you can do it and have fun with your family. You can also print out this Printable to plan your hunt! Go ahead! 
Fun Backyard Scavenger Hunt
Inspire your children to head outdoors with this Fun-Backyard-Scavenger-Hunt! Happiness at home for your kids.
Bible Scavenger Hunt Ideas
Scavenger hunts can be modified to a Christian theme to play in churches or with children or adult groups as a learning activity. There are many ideas to prepare Bible scavenger hunts. Here, we have prepared a list for you to organize a Bible Scavenger Hunt! Enjoy Christmas time!
Bible Names Scavenger Hunt
Send your participants on a scavenger hunt for a certain list of Biblical names. Have them visit local stores, doctor's offices, or other places around town to collect brochures or other free material with the specified name printed on them. The first participant or team to collect points for each name on the list is the winner. You can explore a similar activity here: Names-of-Jesus-Scavenger-Hunt!
Gratitude Scavenger Hunt for Kids
It is essential to give good rites to children. Gratitude is all about being thankful for everything. This attitude gives more positive feelings, calm, and peace from within. You can organize a Gratitude Scavenger Hunt for your children and print out this free Printable to plan it soon! Stay calm!
Photo Treasure Hunt For Children
You can use photos or objects to describe items specified in the Bible and hide them in different places in a church. Give participants a list to search for items and let them go for a hunt. The one who comes first will be declared as the winner. Create something more at Rachel-wojo!
Cryptic Scavenger Hunt
You can provide a list of clues to the participants, not a list of items, and send them to search the items that the clues lead to. The clues should lead to an object or person cited in the Bible. The first team or the person who can solve all the clues and find each item is the winner. You will love this 15-bible-scavenger-hunt-clues! Explore it!
Text Scavenger Hunt
Create a text scavenger hunt list of passages from the Bible. Choose multiple passages and the list of people for the game players. Do not add the location of the passage. Let every player or team attempt to find the Bible passages and let them write down each passage's spot. The player or team to find each passage correctly and write its location is the winner. You can find more at the chess-museum. Good luck!
Neighborhood Scavenger Hunt Ideas
Sometimes it is more fun to organize an outdoor neighborhood scavenger hunt, especially when the participants are over 9 years old. The adult instructs the kids, then distributes them so that so they can complete the given tasks. Middle-aged children will understand easily, but you can support them when required. We have created a list of Neighborhood Scavenger Hunt Ideas for you. Have a look!
Neighborhood Scavenger Hunt
A neighborhood scavenger hunt is a great activity for children. You can ask children to find things on their list. For example, "roses" or "mailbox" or "singing bird" to complete their list. You can print out this Printable for free. Be creative and have fun!
Alphabetical Scavenger Hunt
This hunt is for toddlers. Instruct participants to look for items from A to Z in your neighborhood, such as a lampshade, streetlight, red Car, etc., until they have completed the alphabet. You can download ready-to-print Alphabetical-Scavenger-Hunt-Printable to organize your hunt. 
Neighborhood Photo Scavenger Hunt
A photo hunt is a fun and easy idea to do. Give each team a digital camera, then have them take photos of the listed items. Moreover, they can upload their pictures and then organize them into a short presentation too—a great activity for kids who like projects and work on computers. Visit Neighborhood-Photo-Scavenger-Hunt to design yours. Good luck!
Nature Neighborhood Scavenger Hunt
Divide the kids into teams and provide them a list of items they can only obtain in your area garden. You can also ask them to capture the items if they like to develop their photography hobby. You can find a photo-scavenger-hunt-printable. Let's capture some joy!
Backyard Bird Scavenger Hunt
Let your kids head outside to hunt for birds in your neighborhood. An enjoyable activity to stay connected with nature. Print this Backyard-Bird-Scavenger-Hunt to observe what birds you spot around. Have a great time!
Scavenger Hunt Clues Ideas
Treasures hunt clues are the heart of your children's adventure! Make your child happy without too much stress and in a minimum of time! Prepare in just 20 minutes a fun scavenger hunt clues activity. To organize a treasure hunt, you will have to create or invent clues adapted to your scavenger hunt's theme. We have prepared cool scavenger hunt clues ideas for you to organize this activity. Let's dive into playful and amusing adventures!
Treasure Hunt Clues
Here is a treasure hunt for children. It can take the form of clues. You can organize it with some easy preparations. Here you can find Clue-Ideas.
Text Mirrors – Treasure hunt clue
Write secret messages backward for your scavenger hunt. Kids will have to find how to read it the right way. You can give them a hint like, for example, "it reflects your image and can help you"… it's the mirror, of course! Mates, visit hobby-lark to explore more fun activities!
Alphabet Substitution – Treasure Hunt Clue
You will write the alphabet online from A to Z. Below each letter, you place a different pattern or symbol for each letter. You will allow you to create messages coded in symbol, color, image, or whatever you want. The colors and shapes are the easiest. The symbolic images are more complicated, but the highest level is the symbols because they do not represent anything that we recognize easily and remember! Explore more Codes-Ideas. Enjoy!
The Missing Objects Scavenger Hunt Clues
An ideal treasure hunt clue for children from 3 years old. Group ten images on one sheet. On another sheet, you will take nine images! The child must remember the missing image. If he finds the correct answer, then he wins the challenge! You can also find more memory scavenger hunt activities at Noti-Me-For-Flashcards. Stay sharp, friends!
Riddles Scavenger Hunt Clue
The riddles are very easy to plan. For example, if I tell you: I'm heavy, and I drive nails; who am I? A coconut !!!! No, I'm kidding! A "Hammer," of course. Explore more Scavenger-Hunt-Clues. Have fun!
Virtual Scavenger Hunt Ideas
It is possible to create treasure hunts (for children or adults) that use a smartphone as a guide to follow a course outdoors or indoors. Smartphones are all equipped with GPS, a magnetometer, and a camera. The routes can be punctuated with puzzles, chat, photos, etc. Here is a list of ideas that we have prepared for you; it will allow you to create fun virtual scavenger hunts.
Virtual Scavenger Hunt
A virtual scavenger hunt is a modern way to join with your dear friends and family virtually! Two free printable scavenger hunts included! You can also download Virtual-Scavenger-Hunt-Printable to plan your hunt. Let's connect!
Video Scavenger Hunt
During this social distancing time, being away from loved ones can be tough; but virtual scavenger games to play on apps like Skype, FaceTime, and other video calling apps are sure to bring happiness. You can explore more at family-adventures. I wish you a happy time!
Video Chat Scavenger Hunt
A video chat scavenger hunt is an enjoyable way to stay connected with loved ones, even when you are in a presence with them. It is a fantastic activity for kids to play anytime they are separated from their friends! You can plan it by visiting Sunshine-Whispers. Great wishes!
Virtual Indoor Playdate Scavenger Hunt
A virtual indoor playdate is a great way to entertain your kids. Keep your children occupied and connected with playdate apps for activities. Perfect idea for preschoolers. You can explore everything about it with a free printable at Shrimp-Salad-Circus. Enjoy!
Digital Escape Room Scavenger Hunt
Give your children a taste of adventure with digital escape rooms to try indoor or outdoor. For distance learning, this is a perfect hunt! Find 50-Digital-Escape-Rooms to start with. Keep exploring!
Funny Indoor Scavenger Hunt Ideas Around The House
Want to prepare a funny activity for your child at home to keep them busy? But have no idea what to plan? Here you will find funny indoor scavenger hunt ideas that allow you to plan a hunt for your children without too much stress! Follow these fun ideas to bring joy to your life!
Thanksgiving Scavenger Hunt
A Thanksgiving Scavenger Hunt is pure joy and entertaining activity for children while you are busy with household work. All you need is to print out this ready Printable and let your children begin the fun!
What's in My Bedroom? Indoor Scavenger Hunt
Are you looking for a perfect indoor scavenger hunt to plan for your children? When you are too busy in the house for hours and hours, "What's in my bedroom" is a boredom buster for you! It is easy to plan to keep the kids occupied. You can print out the Printable to organize this hunt! Good day!
Indoor Riddle Scavenger Hunt
Riddles are a terrific way to keep entertaining your children without much effort. Kids love riddles to solve with time-lapse fun. You can explore Indoor-Riddles for your little ones.
Fun Indoor Scavenger Hunt
You are looking to add some pleasure to rainy days or those times when you're bored at home? Fun Indoor Scavenger Hunt around the house activity will keep children busy and having fun. You can download the free Printable to organize this hunt! Have fun!
Poem Treasure Clue Hunt Around the Home
Hide a gift as a treasure for your child for special occasions like Christmas, birthday, or celebration, etc. You can organize this Poem-Hunt. It will add some mystery and fun to your special day! Glory to you!