Every year we make wreaths in different kinds and ways. This year also we tried to create Christmas wreaths in a creative way.
We used basic supplies such as Popsicle sticks, satin ribbons, and decorative beads to make affordable and DIY Christmas wreaths to use for garlands, ornaments, and hangings.
Here are the fun ideas to create Christmas wreaths in unique way.
What do you need to make Christmas Wreaths?
Have a look at the basic supplies you need to collect to make DIY Christmas wreaths. Just gather them on your activity area and be prepared to make beautiful wreaths.
DIY Craft Sticks Or Popsicle Sticks
Water Paints
Hot Glue
Satin Ribbons
Stationery Paper Pins
Decorative beads
Decorative Beads
Green Thread
Green Tiara
Sand Paper
Pom-Poms
Thermocol sheets (Make sure to pick 20 mm one)
Instructions to do DIY Christmas Wreaths
Popsicle sticks are the handiest stuff for creating unique crafts.
Creating Christmas wreaths using Popsicle sticks is the great idea to engage your children during winter vacation.
Basic Hentagon Christmas Wreath
Step-1: Pick6 big Popsicle sticks and paint them with green color or choose the craft sticks that are colored.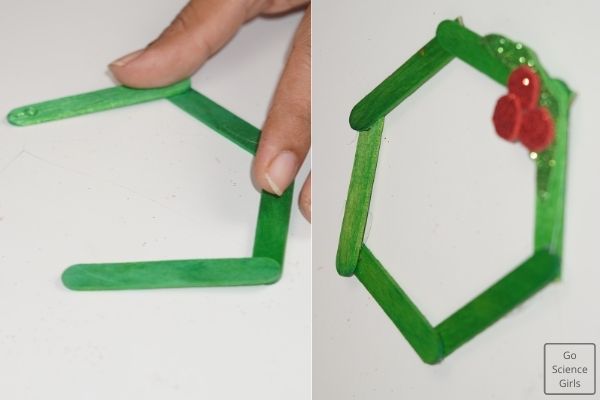 Step-2: Join all the six colored Popsicle sticks using hot glue in the shape of hexagon.
Step-3: Glue three pom-poms at the apex of hexagon Popsicle stick frame and hang a bell at the same point.
Step 4: Stick a satin hanging part at the top and decorate the hexagon frame using glitter pens and star shaped stickers.
That's it! Your beautiful Christmas wreath is ready to hang on your doors and windows.
Popsicle Stick Autumn Wreath Ornament
Step-1: Take a piece of thermocol sheet and cut it in a circle shape with 2cm radius. Also, make sure you put a small hole in the middle of the circle. Use kid-friendly scissors to cut any material children use.
Step-2: Now arrange green and red colored Popsicle sticks around the outer part of the circle alternatively and glue them all properly to the thermocol. Then, attach stationery paper pins around the circle at the attached part of Popsicle sticks.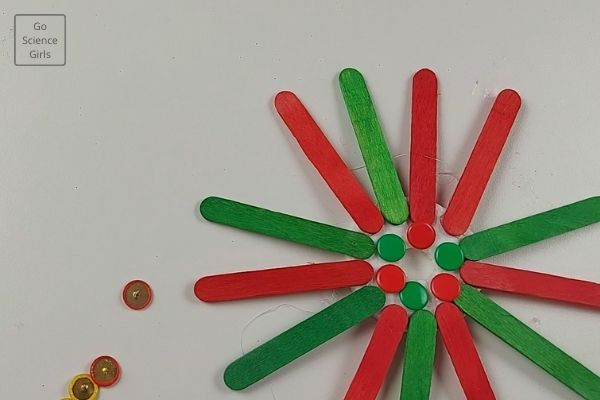 Step-3: Decorate the Popsicle sticks using your favourite glitter pens or glues. You can also use your own creativity to make your Christmas wreath look beautiful.
Step-4: Give a hanging part using green colored satin ribbon. Then, Using green color threads, give 5-10 rotations through the Popsicle sticks just half inch away from the paper pins layer.
Step-5: Afterthe thread layer, bring the beautiful tiara around the Popsicle sticks same as the thread layer.
We are done making wonderful Christmas wreath to decorate your house like a shining star.
Want to try out more Popsicle Stick Crafts? Check out :
Popsicle Wreath Christmas Tree Ornaments
Reindeer craft from Popsicle Sticks
Popsicle Stick Snowflake Ornaments
Christmas Star from Popsicle Sticks
Snowflake Popsicle Christmas Wreath Craft
Step-1: Take five green color Popsicle sticks and arrange them in pentagon shape. If you do not have color popsicles, then you can use plain ones and paint them with your favorite colors.
Step-2: Make another pentagon same as step-1 and glue both the pentagon frames together.
Make sure you are not overlapping both the frames. Change little angle and glue them such that we can notice two pentagons in single frame.
Step-3: Next, pick a thin satin ribbon and wrap it around the pentagon shape as shown in the pictures.
Step-4: Fill the gaps on the frame after wrapping satin ribbon with tiny and colorful balls or pom-poms. Use glue to attach them firmly. Otherwise they may fall away if we do not fix them properly.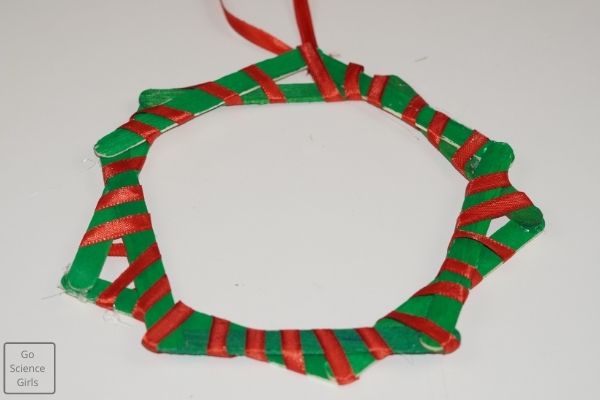 Step-5: Then, take a red colored cloth of your choice and shape it as a bow. And fix the bow to the apex of the frame. On top of it, put a small angel and a star as part of decoration.
Your beautiful snowflake Popsicle Christmas wreath is ready for your Christmas celebrations. Just give it a hanging part and enjoy watching beautiful wreath hangings on your main doors.
Popsicle Stick Christmas Wreath
Step-1: We are going to use Popsicle sticks in bulk to make fascinating Christmas wreath. As a base frame, make a hexagon shape using six Popsicle sticks.
Step-2: Arrange another layer of hexagon shape on top of the base frame using another six Popsicle sticks. This time, we are going to overlap the sticks one upon the other.
Step-3: Continue step 2 until you build three layered Popsicle stick hexagon Christmas wreath.
Step-4: Decorate the wreath frame using glitters, stars, and beads. At the apex point, make a satin ribbon bow shape and glue it. Also, stick a tiny star on top of it.
Finally, enjoy your Creative Christmas wreath by hanging it to your house walls, doors, garden trees, etc.
Hope you all enjoyed our simple yet budget-friendly DIY Christmas Wreaths.
All the kinds of Christmas wreaths are very much useful and handy to fancy up your garden and backyard area using simple supplies.
If you want to use these wreaths all year around, then use fancy colors to make your holiday vacation more wintery.
Happy Crafting!!